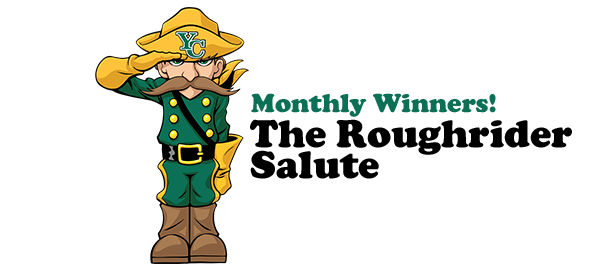 Dr. Lisa Rhine and the Executive Leadership Team
are delighted to present the recipients of The Roughrider Salute.
Congratulations, and thanks for being you! 
The Salute nomination rules and procedures -pdf | All winners SEPT 2020- JUNE 2023
---
May 2023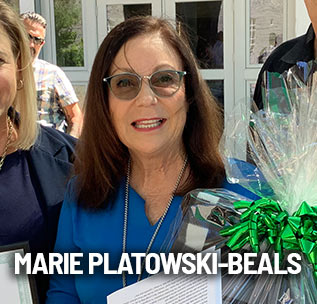 Marie Platowski-Beals, Specialist, SBDC Analyst
Marie Platowski-Beals is an exemplary certified business analyst with the Yavapai College Small Business Development Center (SBDC). Marie possesses an unwavering drive and is a tireless advocate for entrepreneurs and small business. She continues to be a team player, jumping in to assist in any way possible.
Marie is a dedicated professional who consistently goes above and beyond her immediate job responsibilities. Not only does she excel at helping small businesses thrive, but she also generously gives back to her community through her volunteer work. Marie can be found participating in community service, volunteering her time at local events (4th of July parade, PV Christmas lights, and more), and an active member with Big Brothers Big Sister chapter. She understands that her service can be formal or informal, but what's important is that she is always willing to lend a helping hand. Her passion for helping others is truly inspiring, and her commitment to both her clients and her community is unparalleled.
Marie is an established entrepreneur herself and continues to use her expertise and experience in business to inform, educate, and support clients at all levels and in every stage of business. She finds value, worth, and opportunity in each and every client whether they have a wild idea on a napkin or are the CEO of a successful, growing company. Regardless of their current status, situation, or previous experience, Marie gives each client her attention and thoughtful consideration. She is attentive and responsive to the unique needs of each client. She understands the challenges of small businesses and is approachable, realistic, and honest about current conditions and expectations, which is why her clients trust her and continue to seek her input and support.
Marie is always eager to take on some of the tougher, more challenging clients. This has included a client relocating a manufacturing company from California to Arizona and needed everything from a property to build a facility to extensive training for existing and new workforce. She has worked with countless veterans who have unique challenges and need outside resources for financial instability and social/emotional needs, in addition to assistance from the SBDC in writing a business plan or finding seed money. She has worked with countless women-owned businesses who are just starting out and seek basic education on how to start and sustain their enterprises. If Marie doesn't have an answer, she will recommend other resources and help to find the answer.
Marie provides tools, resources and connected businesses to the REDC, and her direct outreach provides real opportunities for the College, REDC, and SBDC to contribute to significant economic development in the region.
Marie's constant outreach through direct communication and through networking at community events and programs, and her outward facing approach has been instrumental in promoting the brand and the value of SBDC and the College throughout the state. She understands the power of real relationships, empathy, and approachability. She honestly cares about each client and goes beyond just the formal numbers and beyond the capital impact she captures. Marie has a positive impact on people, ensuring they feel valued, supported, and empowered to be successful in whatever industry or whatever path they are choosing. It is common to see smiles and hugs and hear loud laughter at social events as Marie interacts with both the public and College staff. SBDC clients value Marie's experience and her professionalism. Quote from Marie's Client:
"Marie I've kinda been in a funk after the [Moonshot] Competition I'm not gonna lie. And after meeting with you today, and every time I meet with you for that matter, I feel refueled. This is a tough thing for me. I don't know what I'm doing. I certainly would not be able to pull this off by myself. I simply have this idea that I know will work. Getting there is another thing. So thank you so very much for your help. As always, I appreciate your time."
---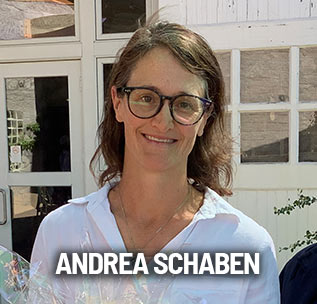 Andrea Schaben- Math Professor
Andrea embodies Yavapai College's Mission, Vision, and Core Values. She is dedicated to providing the best quality education to her students as well as ensuring her courses are accessible and affordable by utilizing Open Educational Resources (OER).
Andrea has been the lead faculty coordinator for the Open Textbooks for Rural Arizona grant infinitive about a year and a half now, and during this time she has led a faculty workgroup with all eight of our rural Arizona community college partners. Although collaborating with faculty from other colleges can present its challenges, Andrea always has a positive attitude and professional demeanor. She listens to the partners and provides feedback.
Together we have strategized ways to better facilitate cross institutional collaboration. She is creative, hard-working, and a great listener. I appreciate being able to brainstorm and share new ideas with her on approaches to the project. She respectfully provides her honest opinion and I have come to fully trust her as a thought partner when looking at the big picture for this regional project.
Andrea is always available to support other aspects of this project. She participated in a video testimonial where she shared her passion for OER. She recoded a short training video for an asynchronous training series that has been made available to partner colleges. This training series was a quick turnaround project in response to partner needs. Andrea made herself available without question during the end of this spring term (which we all know is an extremely busy time for everyone, especially faculty). These are just two examples of Andrea's dedication and expertise to OER.
Andrea has created multiple OER courses and constantly advocates for other math faculty to adopt OER. During the fall 2022 OER Gratitude Campaign, Andrea's students were able to say Thank You to her for adopting and using OER materials. Her students shared personal stories of how Andrea's commitment to OER is supporting them in achieving their educational goals. Without Andrea creating OER for other faculty to adopt, some students may not be able to take math classes due to the high cost of commercial textbooks.
Andrea, is leader in the OER movement, and I have truly appreciated the opportunity to collaborate with her and learn from her.
---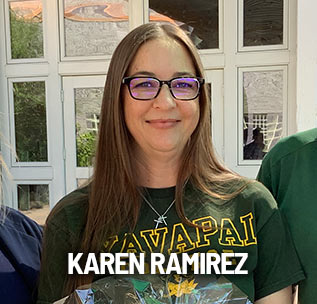 Karen Ramirez- PPO General Specialist, Accounting
Karen is an amazing person to work with. She is always friendly and willing to help solve any problem that comes up. She is NEVER too busy, (even though she is slammed with work) to tell me no.
I get invoices from Karen on a weekly basis and they are always accurate and done correctly. I don't have to send them back to be corrected...she pays attention to detail.
Karen truly makes my job so much easier. I can call her up and ask her a question about something and if she doesn't know it, she will find it out.
I don't have to wait days for Karen to get back to me, she makes it a priority to help me out.
I don't think there is one person that doesn't like Karen. She goes above and beyond and loves her job. She so deserves to be recognized for all the she does for the College and for me!
Thank you Karen, you are an amazing person.
---