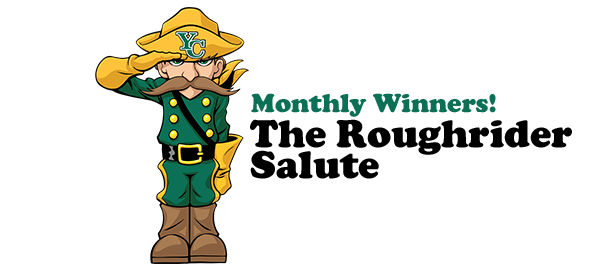 Dr. Lisa Rhine and the Executive Leadership Team
are delighted to present the recipients of The Roughrider Salute.
Congratulations, and thanks for being you! 
The Salute nomination rules and procedures -pdf | All winners SEPT 2020- JUNE 2023
---
March 2023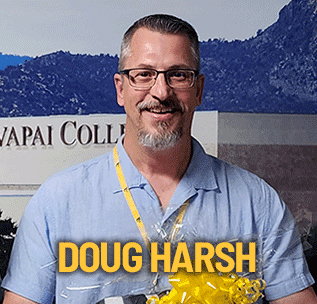 Doug Harsh – Advisot I CP
Doug got started with us in July. He has gone above and beyond in every aspect since then. He was thrown into a position and shortly after became a one man team. He jumps at every opportunity to learn new things and find new ways to help his students.
Doug is professional, kind, respectful, reliable, and so much more! He thinks outside the box and looks for new ways to do things. He does this to make things easier for his students and other team members.
He has worked hard on creating relationship with the CTEC faculty and fixing program barriers for his students.
He has done a number of classroom visits, to not only catch students that are graduating, but to help clean up our data and make sure our students are on the right track!
He has taken on a large role in training our second CTEC advisor and is a true asset to the Enrollment Advising team.
We are incredibly thankful and grateful to have him!
---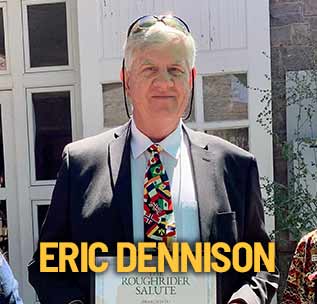 Eric Denniston- Adjunct Faculty, BUSC Division
Eric Denniston is an exemplary colleague and employee for Yavapai College. The longer I know Eric and work with him the more favorable my impression grows of him, his work ethic and his consistent demonstration of the values we hold dear as Roughriders.
Eric's attitude and commitment are above board as he has always made himself available to coach and mentor me, and others, through course development and creation. He is consistently dependable and makes time to assist other in understanding academic and subject matter requirements because of his breadth and depth of business, operations and planning.
In recent months I have always been able to call on him for assistance with collaboration, process improvement, and gaining a better understanding of how we can provide the best learning experience for our nontraditional learners.
Eric Denniston is one of the most exceptional professionals I have had the pleasure of working with in my different industries I have worked in. He sets the example of what hard work, attention to detail, kindness, and candor can do for a team and contribute to the success of a learning and growing organization.
---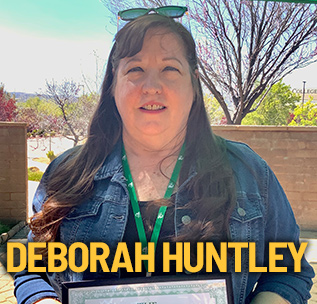 Deborah Huntley- Business Office Assistant II
Debb has an extremely challenging job, taking care of, among other things, the processes for travel, purchase cards and vendor payments. This is detailed, exacting work and is made more difficult by the fact that there are often complications and errors (by other people, not Debb!).
Despite all this, Debb is always patient, and goes above and beyond to make the process as smooth as possible. We are grateful for her kindness and professionalism and everything she does for the college!
---