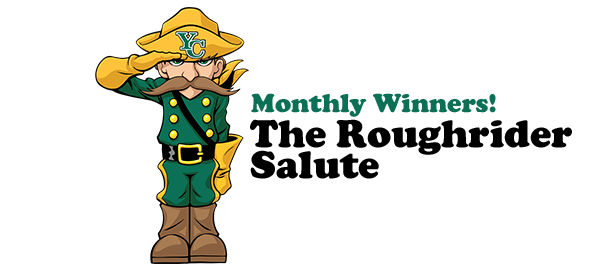 Dr. Lisa Rhine and the Executive Leadership Team
are delighted to present the recipients of The Roughrider Salute.
Congratulations, and thanks for being you! 
The Salute nomination rules and procedures -pdf | All winners SEPT 2020- JUNE 2023
---
October 2022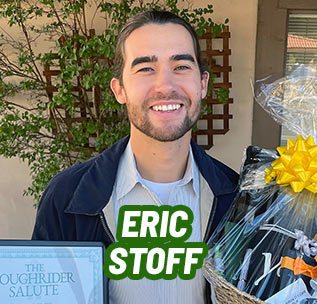 Eric Stoff, Grant & Proposal Writer
Eric joined the YC/REDC Team a year ago, to assist with grant and proposal writing to generate funding and support for the College's Living Wage and education delivery Priorities. One of Eric's many talents is the ability to jump in, whether it be research, project management, or learning a new subject. Eric is successfully applying his grant writing, communication, and processing skills to advance the work of the College.
Eric possesses a natural ability to help and assist with a friendly, positive approach, while bringing solution-oriented input that encompasses the College's mission and vision. When given a task, we can count on him to follow through, report progress and complete thoroughly. Eric is an outstanding representative of the College and the REDC through his outreach to public and private partners.
Eric effectively partners with both internal and external associates. This is evident by the strong relationships he is building with teammates and strong connections with other YC staff that includes ELT, academic programs, grant writing, along with his outreach to county, state, and community college partners. Eric approaches these opportunities to collaborate with active listening and thoughtful input.
As a full remote worker, Eric has led the process of communication and relationship management with his REDC and YC colleagues, resulting in strong connections to our team and the work we are doing. Although he is not physically present in the office, his contributions and talents are top of mind. Eric is always available and is an example of how WFH is a successful model. In this short 12 months he has researched, qualified our projects, and written quality proposals for the attached funding opportunities. In addition to this work, he has researched and qualified multiple other funding opportunities such as the YC Hispanic Initiatives, Comm College Challenge, Meat & Poultry, Strengthening Community Colleges, transportation grants, and multiple others. His commitment to seek funding and fulfill his role as a Grant Writer is outstanding.
I would highlight Eric's professionalism, integrity, and self-awareness. He is an innovative and valued component of the YC's highly professional staff. With the rapid expansion of the REDC team and the work at hand, we value his flexibility and pioneering of his role.
---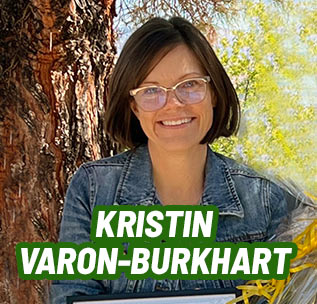 Kristin Varon-Burkhart, Verde Valley Instructional Support Specialist
I find Kristin to be one of the most positive people I've worked with. Every day, she comes to work, ready to work. She constantly exhibits servant leadership characteristics regardless of the task at hand. She has excellent follow-through. Her commitment to the College, Verde Campus and community members shows in everything she does. Kristin has taken her job one step farther by showing sincere to commitment in supporting 1) the management of the greenhouse and 2) utilizing her previous marketing knowledge to support the Cafes. There have been days where the list of to do's is just too much for me to accomplish in the greenhouse so we divide and conquer since the program is taught by an adjunct. Due to her strong ability to execute tasks, she was able to close on a contract with ValPak that resulted in increasing the daily sales of the Verde Greenhouse Cafe by 400%.
Kristin is an excellent communicator. I most admire her ability to establish boundaries with her collegues, which she credits to her time working in an HR office. My most favorite conversation with her resulted when she attended Assessment Day in my place. She chose to sit with one of our new CTE faculty members and acknowledged that this was necessary to start building new relationships. I appreciate her openness to push through challenges and seek a positive outcome.
Kristin's work performance is excellent. She is a goal setter, asks questions to drive towards department outcomes. Always a team player behind any idea that benefits the college, Kristin has organized meetings for us to interview web designers for the School of Culinary. She worked diligently with a local t-shirt shop to produce department polos and hats for our team. She attends recruitment events in the community on a regular basis like PHX Beer Festival to promote the BRW program, Thunder Valley Rally in Cottonwood and gives her Saturday's to participate in campus Open Houses.
I've worked at YC for 12 years and Kristin is the best partner in crime I've worked with. She is honest, not afraid to give feedback, clear in her communication, sets boundaries but always comes back to what's best for students. She works very well with our CTE faculty, always prompting them on to the next thing. I tell her this regularly but I truly mean it- Kristin is a fantastic teammate. I share her love for gardening and food. Never too serious, we have fun together while at work and I really appreciate that!!
---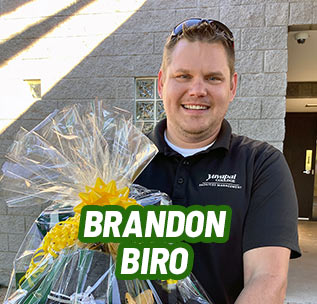 Brandon Biro, Facilities Trades Supervisor
Yavapai Colege prides itself on student success and customer service. This holds true for the divisions and the employees. Customer service is the support you offer your customers both before and after the service is provided. By definition, service excellence refers to the ability of service providers to consistently meet and occasionally even exceed customers' expectations. Brando is the model for both.
We, here at the Police Department have a responsibility to support the needs of the entire institution. In providing that support we rely heavily on others to assist us in satisfaction. Every time I or a member of my team ask Brandon for assistance he not only responds, but he also has never made it seem as though he is being bothered. There have been tasks we have requested from him and his team. Some tasks are outside of his wheelhouse of responsibility.
Any task requested has been completed above and beyond the request. There are too many to name. One example would be the assistance he and his team provided for the ALECA Conference Certification 2022. Every year they are here there is something that is needed to aid in training. Brandon has never denied a request. He has also delivered a product beyond our expectations. Another example is a door we needed for training room entries. Brandon and his team were very quick to assist. We still utilize the prop for training to this day.
Brandon is quick to aid no matter what. If he cannot help he finds the right people who can. Brandon is an exemplary employee and deserves to be honored for the service he provides day to day. We here at Campus Safety appreciate him, and we are thankful he is a member of the YC family.
---