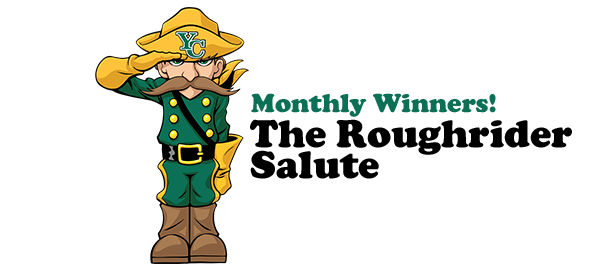 Dr. Lisa Rhine and the Executive Leadership Team
are delighted to present the recipients of The Roughrider Salute.
Congratulations, and thanks for being you! 
The Salute nomination rules and procedures -pdf | All winners SEPT 2020- JUNE 2023
---
November 2022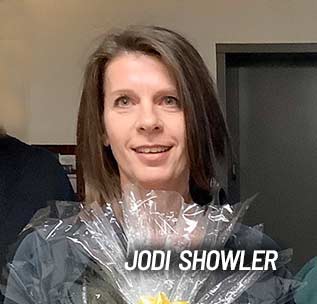 Jodi Showler, Advisor SR II CP
Jodi's committment to her students and colleagues is exceptional. She is an incredible leader for the Retention Advising Team and is always available to help a colleague work through difficult student situations or helping them manuever within our various systems in the most efficient way. She is never too busy to sit down with anyone that needs guidance. Ditto with her students; she is available whenever her students need her and happily adjusts her schedule to meet her students' needs. She is often here late to accommodate students and is even known to come in on weekends to accomodate students that are not able to come during the week and really need that in-person connection.
Jodi is positive in everything she does and is an exemplary professional. She has developed collaborative and positive relationships with faculty in the programs she advises, the coaching staff for 4 athletic teams, and our community partners as the coordinator for the Community Healthcare Scholarships. She helps her students map out the best roadmap for reaching their personal and professional goals, and is there to support them every step of the way.
Jodi exceeds all expectations in her daily work performance. As a senior retention advisor, she is indispensable to me in managing the senior advising team. She serves as a mentor to junior staff; has put together a training process for onboarding new advisors, put together a student-athlete orientation, and an interdepartmental tracking system for student-athlete onboarding shared among student development staff and coaches. She is an entrepreneur and visionary that knows when systems need to change because they no longer serve our students or staff.
Jodi is a critical thinker, a visionary, a cheerleader for her students, and a champion for Yavapai College.
---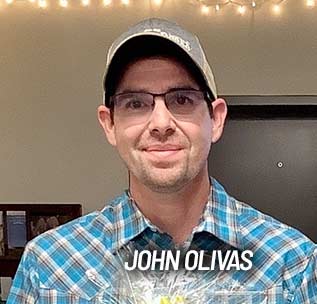 Teacher, Family Enrichment Center
John has demonstrated a positive and willing attitude in his many years of work at the Family Enrichment Center. He started at the FEC as a student worker nearly thirteen years ago and has worked in several classrooms over the years, eventually becoming one of the teachers in our Toddler A classroom. He consistently goes above and beyond to make sure the toddlers in his care are receiving responsive, nurturing care that supports each in their overall development.
When classroom sizes increased this fall, he embraced the challenge and stepped up to welcome new children into the room and adapt the routines effectively to care for additional children. In addition, he often steps up to help out with additional duties around the center. For example, when our kitchen was without a cook, John could often be found washing dishes and mopping the floors after the children went home. This was not something that was expected of him, but he recognized the need and stepped up to meet it.
John is always helpful and supportive to his co-workers who appreciate his gentle nature, sense of humor, and spirit of teamwork. John is one of the kindest people I know and the toddlers in his care gravitate toward him and find a sense of safety and security in his presence.
One of the main reasons I'm nominating John at this time is because he just assumed the mentor teacher duties for three weeks when the Toddler A mentor teacher was out of the Center. During that time, he managed lesson planning, parent communication, portfolios for children, and providing overall leadership to the student teaching assistants in the classroom. While the mentor teacher was out, John facilitated the transition of two of our infants into the classroom, along with enrolling two additional toddlers from the community. In addition, he supported the transitions of three toddlers to the Toddler B classroom. Throughout these many classroom changes, John maintained a consistent routine and set a positive tone in the classroom. The children have adjusted beautifully and love coming to see Mr. John every day!
John is always willing to learn and grow, not just in his chosen field of early childhood education, but in other areas as well. For example, he's currently taking business classes towards his AA in business. In addition, he's committed to his health and well-being, recognizing the importance of keeping himself healthy and strong to maintain the energy caring for toddlers requires. After work most days, you can find John participating in a variety of fitness classes here at YC, as well as walking the YC trails or enjoying the many trails around Prescott.
In addition, John is well regarded by his peers for his positive outlook, willingness to help others, and his kind heart.
---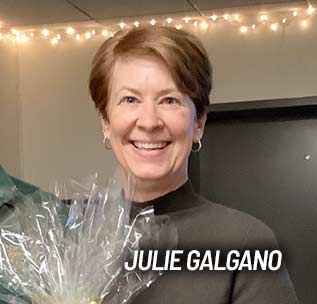 Julie Galgano, Account Payable and Staff Association President
Julie has extended her knowledge and insight since my very first day on the job and to this day, will still happily and promptly answer any questions I send to her.
If every one I come into contact with on a daily basis had the eagerness to assist and help as Julie does it would indeed be a fabulous world!
Julie's accounting skills are expert level and her ability to also compile documents in electronic form only are phenomenal. No matter if she's on campus or working remote, I can count on her to assist me in my job duties promptly and accurately.
I feel lucky to also have a friendship with her outside of Yavapai College. We regularly attend the TRX class and share giggles and cooking/baking tips. Julie is a treasure to so many vital functions of the College and without a doubt many people also rely on her many skills.
---