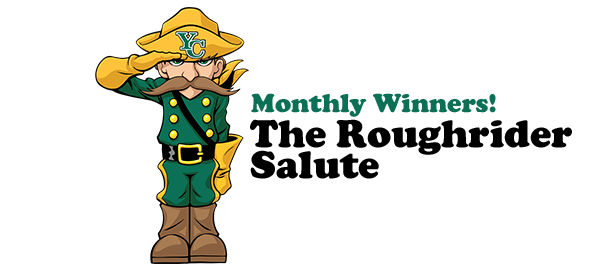 Dr. Lisa Rhine and the Executive Leadership Team
are delighted to present the recipients of The Roughrider Salute.
Congratulations, and thanks for being you! 
The Salute nomination rules and procedures -pdf | All winners SEPT 2020- JUNE 2023
---
May 2022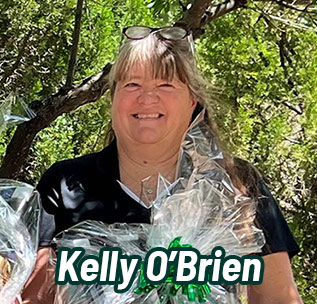 KELLY O'BRIEN


Kelly consistently goes above and beyond for our students. She was actually my first nomination for this award when in started in 2020 becaise she embodies what you want in an employee. She is caring, extremely knowledgeable, quick to respond both to staff/faculty as well as students, always volunteers to help and really loves what she does!
Numerous folks come to Kelly to look for funding for specific students and she does such a phenomenal job reaching out and working with those students to meet their needs. We are extremely lucky to have Kelly working for us. Thank you for all you do Kelly!
Kelly works with faculty, staff and students and does so with a smile. She also works closely with other departments such as the foundation to award students based on donor intent. She puts together the College Honor Applications every year, and works closely with Denise Woolsey - this alone takes hours and hours to put together. However, Kelly never complains - about anything!
Whenever I ask Kelly for help, her first response is "sure, sounds like fun", without fail, this is her response. I have worked with Kelly for at least 8 years now, and not one time have I ever seen her in a bad mood. She is the financial aid team cheerleader, and when we are looking for fun things to do in our student development meetings, Tania and I always go to Kelly! She is a hard worker, and I'm so grateful I get to work with her.
---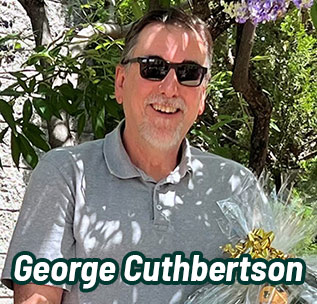 GEORGE CUTHBERTSON
Application Developer
I've been working remotely for YC for about six months. George is my supervisor and has made me feel welcome. He's also been patient while I learn how to perform my duties.
George is always upbeat and willing to help me. He also has a good sense of humor keeps me laughing during the work week. George is an excellent communicator. He explains things in great detail. I've met many technical people during my time working information technology since 1998. It is rare to find someone that is very good technically, but is also an excellent communicator.
George's knowledge about the database and technology in general is impressive. He also is very committed. He was recently suffering from severe allergies. I've been through that and understand how unpleasant it can be. He continued to work in spite of it. Every time an urgent request is submitted, he takes care of it right away.
Pleasant, funny, warm, gentleman, intelligent, good communicator.
---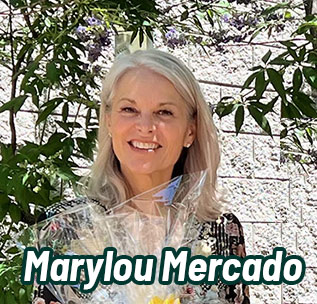 MARYLOU MERCADO
Director of Nursing
Marylou is tireless in her desire and efforts to serve the NSG students, department faculty and staff and the health care community. She frequently is sending and responding to emails before 7 am. Due to Covid when hospitals wanted students to be fitted for masks, Marylou stepped up and did it her self, fitting 100's of masks.
As program director for NSG, Marylou, effectively deals with students, faculty and staff both within her program, across the college as well as in communities located in both the east and west counties. She is kind, fair, professional and exemplary in her interactions and performance.
As they say, "the proof is in the pudding". The YC NSG program enjoys one of the highest pass rates out of 30+ programs in the state. Last year the program was re-accredited for another 8 years (the most available) as well as being sited for exhibiting strengths in several areas.
Once or twice a year she is also a evaluator for other NSG programs under accreditation review. A 4 year degree in NSG has been identified as one of 3 baccalaureate degrees YC should initially pursue and Marylou has not wasted any time in supporting YC in this effort.
As an administrator it can be challenging to maintain good morale, a cohesive team with high expectations and performance, however I believe Marylou has done that. As evidenced by a recent surprise birthday party her department through for her recently. She has guided the Nursing department through staffing changes, a pandemic, successful accreditation and now an expansion of their program. She has done this with some tears but many more smiles and laughs.