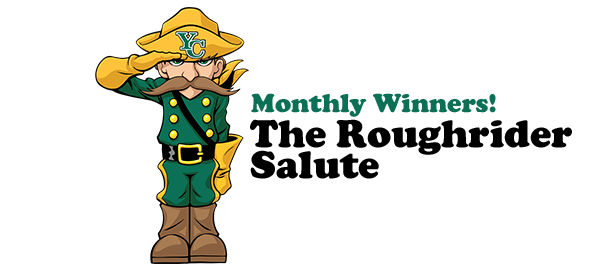 Dr. Lisa Rhine and the Executive Leadership Team
are delighted to present the recipients of The Roughrider Salute.
Congratulations, and thanks for being you! 
The Salute nomination rules and procedures -pdf | All winners SEPT 2020- JUNE 2023
---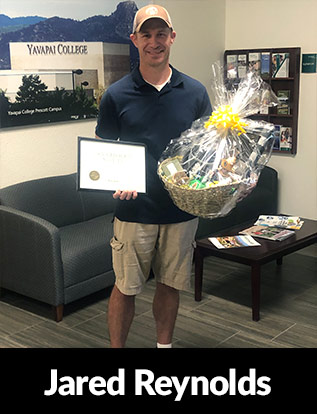 Since Jared became a member of TeLS team I have gotten to know a little bit about his attitude and commitment. Seemingly upbeat no matter what and in the past five years that have been a lot of challenges with online learning and at YC in general - Jared rises to the challenges and shows by example how grow and adapt, making every unexpected situation appear as an opportunity.
---
Academic Affairs Division
JARED REYNOLDS, Specialist, TeLS Department
---
After three or four years of phone calls, office visits and now zoom meetings with Jared, I can say that I am always inspired and equipped with tools and resources to better prepare my online courses. His ability to remain calm, focused and interested/curious in understanding others needs and then helping meet those needs is remarkable. There are no obstacles in Jared's communication style. He is open, receptive and willing to teach and learn in the process of assisting others.
Side note, many years before I had the privilege of working/learning with Jared in TeLS, he stood up at a convocation and suggested a prior YC President a book he had read that helped him understand leadership and communication. If I'm not mistaken it was Leadership and Self-Deception, or something very similar, he described what he learned, how dangerous objectifying others could be and the alternatives presented in the book. It stuck with me to this day! He was humble and clearly changed by whatever book he had read and was offering up for consideration at a convocation. Jared does not keep solutions to himself, he applies them, improves them, demonstrates them and offers them freely to others. Thank you, Jared!
Here is one grand example of how Jared excels. He embodies the definitions of work performance, "takes initiative, ability to train others and gladly willing to do so and is self-motivated." In the past three years I believe Jared initiated the course design for online learning we today know as Course Forge at YC. He saw an opportunity to define YC online platform and begin the process of trial and error. Today, YC online has an identity and faculty who adopt some form of course forge to give students the experience of 'being at YC online'. To me, without the YC course forge, there is no connection for myself as faculty and for students between learning and YC. Now, thanks most especially goes to Jared for pursuing this simply because he had a vision, took initiative and freely shared his creation with others. Jared, Thank you (and all who assisted you). You have given YC online a 'campus', an identity and a feeling of belonging.
While I do not know Jared off campus, I can confidently say I would expect the same consistently genuine, kind, open and relaxed demeanor he presents on YC campus to be how he engages in all his endeavors, personal or professional.
---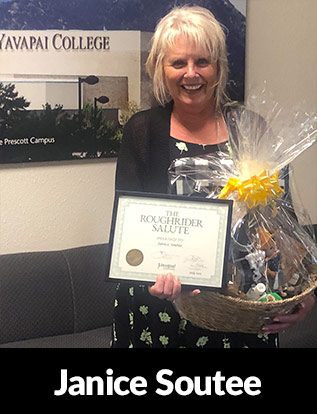 Janice Soutee embodies the Roughrider Salute values! Janice, as a one-person department, tripled student engagement at YC with the assistance of her team of ambassadors. Student clubs have tripled, she has implemented a leadership program, a student government, and the Dr. Rhine Students of Leadership Program.
---
Community Relations and Student Development Division
JANICE SOUTEE, Director of Student Engagement and Leadership
---
The Pandemic did not slow down Janice and her amazing team of student ambassadors. They created monthly virtual engagement opportunities for our student population and their families during a time that everyone needed to feel connected to the outside world. Her commitment to our students' support and success is apparent in everything she does, and she ensures that the student's voice is always part of the conversation.
Janice has re-established the vibrancy of the student body at Yavapai College that resonates with faculty and staff as well. Simply put, Janice is a rock star at YC.
---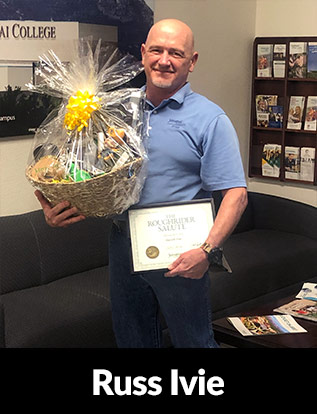 Russ is always willing to help and works hard to ensure our goals are met and the job gets done. He does this with a kind and positive attitude and consistently goes above and beyond to help out.
---
Finance & Administrative Services and Human Resources Division
RUSSELL IVIE, ITS Operations Coordinator, ITS Department
---
Russ has done a great job in his new position as ITS Operations Manager. He learned the job quickly and has diligently worked hard to learn all of the different parts of the process involved in purchasing and managing ITS inventory. Russ worked to put processes in place that have made managing inventory much easier for other ITS employees. His hard work and attention to detail are greatly appreciated, and he is an asset to the ITS department and Yavapai College as a whole.