How Zoom Works
Video Conferencing at Yavapai College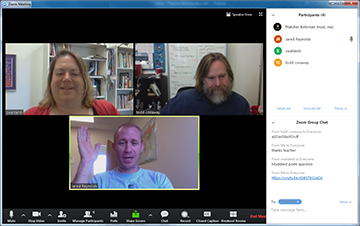 Zoom is the video conferencing system used for meetings and classes at Yavapai College. Faculty and staff can create meetings for classes or College business with Zoom.
Get a Zoom Pro Account at YC:
Log in to your YC Portal
Click on "Employees
Zoom Online Meetings
Click "Sign In" from the next page.
---
You will enter your Zoom Pro account page, where you can schedule meetings and conduct all your Zoom business. IF YOU START A MEETING from your Zoom account page, it guarantees that you will be the Meeting Host.
---
Meeting participants do not need an account to join a meeting, just the link you provide.
---
Getting Started
Before joining a meeting
---
For Better Meetings: Use a headset or earbuds to prevent audio feedback. Mute your mic when not speaking.
Adding Zoom to your Canvas Class
---
---
Troubleshooting for Audio and Video Issues
No sound on your end - check your device's volume control, use the menu next to Zoom mic icon to select the correct speaker, and check your speaker's physical connection. If none of these, the problem could be their microphone.
No sound on their end - check your microphone connection to computer, use menu next to Zoom mic icon to select correct microphone. If the green level is bouncing inside the Zoom mic icon when you speak, your mic is working.
No video - check that the video is turned on in lower left in Zoom; use menu next to Zoom video icon to select camera
Bad connection with audio or video - if you turn off the video in Zoom the stream may improveon your connection.
---
Sample Instructions to Provide Your Students or Audience
You will be joining a ZOOM live video conference online. The device camera or computer webcam along with a built-in microphone will work. For the best audio, using a headset or earbuds to listen will help prevent audio feedback.
When you click the link to join the meeting you received by email or in your Canvas course, you will be prompted to download and run a small program which will start automatically. If not, click the download "Zoomuslauncher" and click "Run" if prompted.