Employee Email / Calendar Migration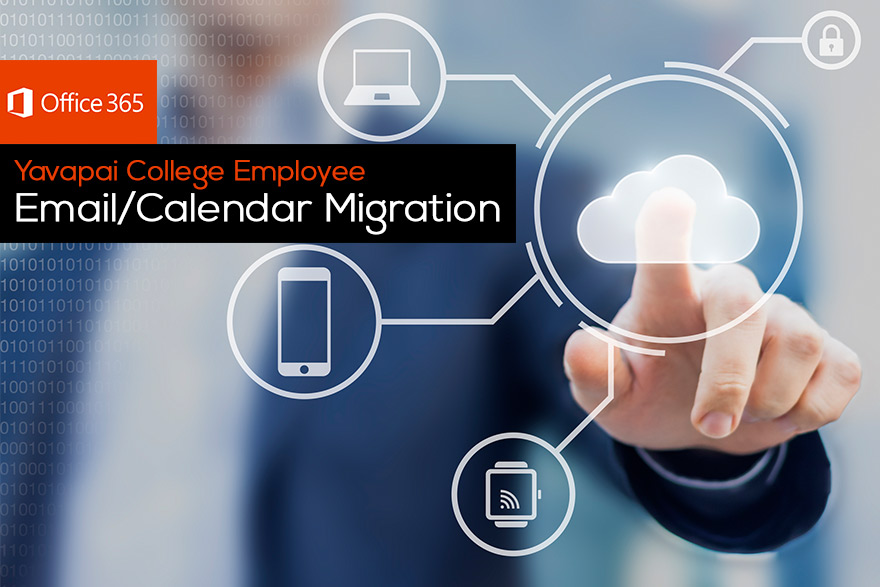 What is Office 365?
Office 365 is basically the same suite of Office products and services you recognize, now provided through the cloud. In addition, you will be able to take advantage of new applications such as Sway, Forms, Video, and Planner.
Our license also provides access to Office 365 ProPlus services, including the ability to download and locally install Microsoft Office applications on up to five personal computers/phones/tablets; 1 TB of cloud storage through OneDrive; online versions of the Office applications; mobile applications where you can access, edit, and view Office documents on your mobile device; and regular access to the latest software updates. It is important to note that your access to this service is tied to your employment at YC, and ends when you leave the college.
DO NOT attempt to install Office 365 ProPlus on YC-managed machines. If your computer is managed and you want the latest Microsoft Office software, please contact the ITS Help Desk at 928.776.2168 or helpdesk@yc.edu.
---
Will my username and password change after the migration?
Your password will remain the same. Your username will remain the same for most login related activities at YC (e.g. your YC computer and your YC website login). However, you need to use username@yc.edu (e.g. lmott24@yc.edu) to log directly into any application that is Office 365 related. The following Office 365 applications require that you utilize the username@yc.edu syntax: direct logins to outlook.office365.com, Skype for Business client, OneDrive, and any Office 365 mobile application.
Please note that you can access Office 365 via the YC website after logging in with your normal username and password.
---
My username is different for Office 365. Will my email address also change after the migration?
No, your @yc.edu email address will stay the same. The only things that are changing are your username and the server where your email is stored.
---
How will I access my email/calendar?
You can continue to use your Outlook client on your YC maintained computer for most functions. In addition, you can continue to access your email/calendar via the YC website login or directly via outlook.office365.com. You may be prompted to restart your Outlook client once the migration is complete – this is normal. If Outlook prompts for your password, please provide it.
---
Will all of my email and calendar items be migrated?
Yes, with the exception of email messages larger than 35MB. The size restriction applies to the size of the entire email message. It is rare to have email messages greater than this size.
---
What is the migration plan for the college?
The ITS and pilot group will be the first to be migrated to Office 365. These groups will be followed by all students then a phased migration of all employees.
---
I just migrated, why is my Outlook so slow?
When your account is migrated to Office 365, there is a period of synchronization for Outlook that can sometimes take 24-48 hours to finish, depending on the size of your mailbox. If you find it is particularly slow, it may be best to use the Outlook Web App for a day.
---