Meet our Staff
We are thankful that we have such a committed and skilled staff. Each has been chosen not only for their experience and educational background, but also for their warmth and commitment to enhancing the lives of children and families.
---
Shelby Kooiman – Infant Mentor Teacher
Hello, my name is Shelby Kooiman and I am the Mentor Teacher in the Infant Room. I have been with the Family Enrichment Center, FEC since 2011 when I started out as a practicum student, a student worker, then a teacher in Preschool, and finally the Infant Room Mentor Teacher. I have been the Mentor Teacher since 2014 and I have enjoyed every minute. I love being with the infants and watching all of the changes that they go through while we have them at the FEC.
I graduated from Yavapai College with my Associates and then went on to Northern Arizona University. I graduated from NAU in 2012 with my Bachelors of Science in Elementary Education. I have also completed 36 hours in Early Childhood through Yavapai College.
I am also a mother to three children who are at the FEC or have graduated from this program. My boys are Greyson and Oliver who are so funny in every way. My daughter's name is Peyton and she is an over achiever. My children are the greatest joys in my life and my greatest love. I am married to my high school sweetheart who has always been so supportive and pushed me toward becoming a teacher.
---
Jeannine Skousen – Toddler A Mentor Teacher
I was born in California and still have strong family ties there but moved to Mesa, Arizona at the age of 2. I consider myself a true Arizona girl and attended Arizona State University after high school. It was there that I earned my Bachelor of Science degree in Family Relations and Human Development. While at ASU, I had the opportunity to work at a lab school similar to the FEC, only then I was a student assistant.
I began my career following graduation, when I started an in-home day care center. I ran the center for 10 years, during which time, I also married and had 4 children. My family moved to the Prescott area in 2002 and for a time I left the field of early childhood. When I learned about the opening of the FEC in 2007, I applied for the job of teacher in the infant room. In 2008, I joined the FEC team and found my passion for child development come alive, once again. Since 2008, I have held many positions at the Family Enrichment center, even leaving for a time to focus on family. I am so happy to be back as the mentor teacher in the Toddler A classroom. The joy of being with children as they experience their world is indescribable. Each day is filled with wonder and I am amazed by the new things I learn with them.
---
Lupe Mercado – Toddler A Teacher
Hello, my name is Lupe Mercado and I am the teacher in Toddler A at the Del E. Webb Family Enrichment Center. I was born in Mexico City, but moved to Arizona 15 years ago. I began my journey in Early Childhood Education in 2014 at Yavapai College. Shortly after, I started at the FEC as a practicum student, then a substitute teacher, and now the co-teacher in Toddler A. I have been at the Center since 2015. I graduated with my Associates of Applied Science in Early Childhood Education in 2016 from Yavapai College. I enjoy spending time with my family, taking road trips, and collecting children's books.
---
Erika Lord- Toddler B Mentor Teacher
I was born and raised in Phoenix. I moved to Prescott after my high school graduation in 2010. I started my educational journey as a nursing student. Then in 2012, I was hired as a student worker at the FEC in the Toddler B classroom and my life changed. I discovered a passion for working with young children and their families. I received my Associates in Early Childhood Education from Yavapai College and my Bachelors from Prescott College. I feel incredibly privileged to be a part of their young lives. In Toddler B, there are so many relationships and friendships developing. I love watching children develop social skills and emotional intelligence in themselves and with each other. My favorite part of teaching toddlers is being able to sit and play with the children. That is when the magic happens. In June 2018, I married my best friend, Killian. Together we enjoy camping, kayaking, hiking, and traveling, especially to Las Vegas!
---
Kat Gautreaux – Preschool A Mentor Teacher
I grew up outside of Raleigh, North Carolina and attended the University of North Carolina- Asheville where I received a Bachelor of Science in Mass Communication. I was going to be a journalist! However, growing up, I watched my mother, an Early Childhood Educator, work with preschool-aged children and I often spent time in her room, helping her with her lesson plans, talking with her about the children and how they learn and often attending education conferences with her. The passion for young children was part of my upbringing.
I finally found my way to Early Childhood Education after my daughter was born. After starting an informal afternoon enrichment play group with children we met at the library, I couldn't get enough! I decided it was time to take some classes at Yavapai College. I finished my Associate's in Early Childhood Education while also working at the Del E Webb Family Enrichment Center.
Now as the mentor teacher in Preschool A, I am able to do the work I feel I was born to do. Working with children – guiding them as they learn about the world and themselves all while scaffolding their skill development – is, for me, a privilege and I'm honored to work in such a high quality enrichment center.
Outside of school I spend time with my family, I am an avid equestrienne, I read, and I love the challenge of home projects. My family has considered Prescott our home since 2011.
---
Donner Dotzler – Preschool A Teacher
I was born and raised in Tucson, Arizona where I started my career with children as a DES in home provider. Child care and education has been my focus since high school and I've been able to receive my AAS in Early Childhood Education as well as receiving advanced certificates in fields related to early childhood. I have worked as a child care provider, CPS respite care provider, special needs provider, and family advocate. I was also lucky to have the opportunity to teach Elementary English and Math in the United Arab Emirates.
I have been married since 1995and have three incredible children. My oldest has her dream job of working with animals as a supervisor at the Yavapai Humane Society. My son is finishing his degree in Computer Sciences at the University of Arizona and works in a virtual and augmented reality lab. My youngest will be transferring to the University of Arizona to complete her degree in Educational Phycology so she can teach at the college level.
In my spare time I am a mentor for Boy Scouts and a leader for my Girl Scout Troop of over 30 girls. I am a leader mentor, merit badge counselor, Prescott activities coordinator, and Prescott Scout recruiter. My son is an Eagle Scout, my daughter is a Silver Award Girl Scout, and my oldest daughter runs the Girl Scout Cookie program for Prescott. Staying involved in my community and teaching young people the importance of being involved and giving back is very important to me.
---
Killian Lord- Preschool B Mentor Teacher
Hello, my name is Killian Lord and I am the Mentor Teacher in the Preschool B classroom. I was born in Colorado but was raised right here in Prescott, AZ. I graduated from Yavapai College with my Associates of Applied Science in Early Childhood Education, and I have my Bachelor's Degree in Early Childhood Education from Prescott College.
It is an honor to be a part of the FEC staff. I started as a student teacher in the Toddler B and Preschool A classrooms. I am strongly aligned with the Reggio Emilia influenced classroom and believe in child led, emergent learning. Teaching in Preschool B is a rewarding and wonderful experience every day. It is an honor to watch these young children grow and develop. I love the natural curiosity that children have and I truly am passionate about teaching them and being a part of their joy to learn.
In June 2018 I was lucky enough to marry my best friend Erika. Together we enjoy camping, hiking, traveling and exploring. I also love to Mountain bike, fish, read and wander around our beautiful state in my Jeep.
---
Laurie Bragdon – Preschool B Teacher
Hi, my name is Laurie Bragdon and I'm the Teacher in the Preschool B classroom. I grew up in the state of Maine, then moved to California to attend Art school. My husband and I moved to Prescott in 1993 and started our family. When my son went to school I found my passion for teaching. I volunteered at the school so much they gave me a teacher aide position. I then pursued a degree and graduated with honors from Yavapai College with an Associates of Applied Science in Early Childhood.
It is so great to be a part of the FEC Staff. I started as a Student Teacher while attending Yavapai College and was hired in 2010 for a teaching position in the Preschool wing.
I believe in living an inspired life and I enjoy writing, art and the world of science and nature. I have a great love for children and every day I'm amazed that I get to come to work and share the different ways I learn, with them.
---
Holly Davis – Floater Teacher
My name is Holly Davis and I'm the Floater Teacher at the Family Enrichment Center. I was born and raised in Long Beach, California, but have recently moved here to Prescott from Eugene, Oregon. While living in Oregon, I earned an Associate Degree in Early Childhood Education at Lane Community College in addition to a 240 hour practicum in their lab school. I'm currently living in Prescott with my mom and dad. My sister, brother-in-law, niece and nephew live nearby in Sedona. I've been working in the field of Early Childhood Education since 2015 and I can say that I love this line of work. I love spending time with kids every day and supporting their growth into intelligent and courteous people. I enjoy getting to know their unique personalities and how they see the world through their own eyes.
My favorite thing to do with children is to let them express themselves through any kind of art. I love it when they can use their imagination. They usually create something really unexpected and intricate!
I very much enjoy being the floater teacher because I experience a varied weekly (or even daily!) schedule that keeps me on my toes. I get to see so many incredible interactions among the many different ages we have at the FEC. I'm proud to know every child who attends school here!
---
Keely Schadt – Floater Teacher
I have been a Prescott resident for over fourteen years and have been very fortunate to call our beautiful town "home." I received my Associate's degree in Elementary Education, with an endorsement in Early Childhood Education from Yavapai College in May 2014. I am a Floater Teacher at the FEC, which means I get to spend time working in each of the incredible classrooms throughout the center. I have also previously held the Administrative Substitute positions at the FEC. Working with children has been such a treasure to me, and I am so thrilled to be part of this wonderful child-centered program. The collaborative work amongst the entire team at the Family Enrichment Center is truly outstanding and continually inspires me in my role as an educator.
I have an amazing daughter who has enriched my life beyond what words can measure, and she also attends the center! Being both a parent and a teacher at the Family Enrichment Center has been an incredibly rewarding and valuable experience. I am truly delighted to share in the lives of our FEC children and families.
---
Debbie Wiese - Cook
I was born in Danbury, Connecticut and moved to Arizona 40 years ago. I've been in the food service field for 19 years and thoroughly enjoy what I do. I worked for the Humboldt Unified School District for 10 ½ years. During that time, I managed the Glassford Hill Middle School Kitchen, and then went on to manage the kitchen at Mountain View Elementary School. I've worked at the FEC as the Kitchen Manager for a number of years now and I really enjoy it.
I have two grown sons and a beautiful daughter, Khloe, who is still in school. I enjoy hobbies such as bowling, going to yard sales, and watching a good movie every now and then. My favorite thing to do is to spend time with my daughter and all my grandchildren.
---
Practicum Students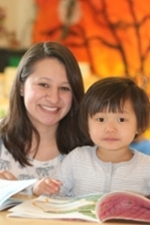 Yavapai College ECE students make up our third layer of staffing in each classroom. They enrich our program with their enthusiasm and eagerness to work with young children, and their involvement increases our adult to child ratios and enables us to provide more individualized attention to children. We typically have up to 15 student workers/practicum student working in the program at any given time.