Curriculum
Here are all the tools and resources you will need to design learning-centered curriculum!
Just supply the subject-area expertise and related background information and you'll have a quality curriculum product in no time. Since you're already here, just select the appropriate information below.
Curriculum/Program/Course Development Tools
Curriculog
Yavapai College implemented the Curriculog Curriculum Management System in Fall 2018. Contact curriculum@yc.edu for additional information and resources for Curriculog
Curriculum Development Tools
Please contact curriculum@yc.edu for more information.
2019-20 Curriculum Committee Representatives
Voting Members:
School/Area
Representative
Arts and Humanities (ARHU)
Laura Cline
Arts and Humanities (ARHU)
Andrew Winters
Business & Computer Systems (BUCS)
Ed Bushman
Business & Computer Systems (BUCS)
Denise Woolsey
Career and Technical Education (CATE)
Matthew Mintzmyer
Career and Technical Education (CATE)
Tom English
Health and Wellness (HEWE)
Jennifer Ritter
Health and Wellness (HEWE)
Bryan Smith
Science and Engineering (SCEN)
Jeri Hamilton
Science and Engineering (SCEN)
Matt Pearcy, Chair
Social Sciences (SOSC)
Le Anne Lawhead
Social Sciences (SOSC)
Karly Schauwecker
General Education Chair
Joshua Schmidt
SLOA Committee Chair
Liz Peters
Non-Voting Members:
School/Area
Representative
Academic & Career Advising
Tania Sheldahl
Curriculum and Articulation
Patti Schlosberg,
Angie Poland
District Assessment
Molly Beauchman
Faculty Senate
Jennifer Jacobson
Instructional Support
Stacey Hilton
Library
Ustadza White
Registration and Admissions
Sheila Jarrell
Committee Meetings
Scheduled Meetings for 2019-20
Curriculum Representatives must submit all curriculum proposals to the Curriculum Office for inclusion in the 2020-21 year academic catalog by October 31, 2019.
Questions? Email your curriculum representative.
Meeting Time: Tuesdays 3:00 - 4:30 pm
All meetings available via WebLIVE (Zoom)
Fall 2019
| Date | Location - Prescott Campus |
| --- | --- |
| September 3 | 03-105 |
| September 17 | 03-105 |
| October 1 | 03-105 |
| October 15 | 03-105 |
| *October 31, 2019 | *Deadline for 2020-21 Academic Catalog |
| November 5 | 03-105 |
| November 19 | 03-105 |
| December 10 | 03-105 |
Spring 2019
| Date | Location - Prescott Campus |
| --- | --- |
| January 21 | 03-105 |
| February 4 | 03-105 |
| February 18 | 03-105 |
| March 24 | 03-105 |
| April 21 | 03-105 |
**A School Curriculum Representative (Members) must approve any curriculum proposal through Curriculog by October 31, 2019 for it to be considered for the 2020-21 College Catalog.
General Education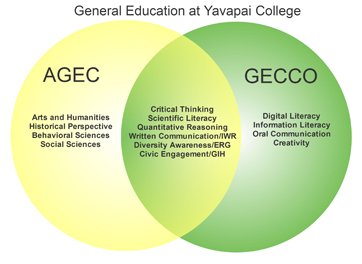 General education is the core and foundation of the American educational experience, defining a set of values, skills and ideas that give a sense of coherence and connectedness to the learning process. Yavapai College recognizes that general education is essential for personal and intellectual growth, an effective and innovative workforce, and a successful and vibrant civic society; and is committed to providing students with both curricular and co-curricular experiences that facilitate these important ends. Yavapai College's General Education program is designed to encourage curiosity and an active interest in the world; practical, disciplined thinking; the development of personal and civic values; and a willingness to acknowledge and appreciate diverse cultural and historical perspectives.
There are two aspects to Yavapai College's General Education program: the AGEC (Arizona General Education Curriculum) and the YC GECCO (Yavapai College General Education Core Curriculum Outcomes.) The former, mandates by the state of Arizona, ensures that transfer students encounter the topics and disciplines of a traditional liberal arts education. The latter is Yavapai College's own articulation of the values, skills and knowledge that higher education should address, and applies to all degrees granted by the college.
Click on links below to access:
Syllabus Development
Syllabus Purpose and Standards
A learning-centered course syllabus is a learning plan for students and is required for every course that is offered at Yavapai College. The official Yavapai College course outline is the foundation for the course syllabus. While the course outline defines the learning outcomes and content required for district-wide delivery, the course syllabus is where the instructor brings the course alive. It injects instructional creativity, innovative instructional strategies, and directed accountability into the course.
Every course syllabus must incorporate the components identified below in the Required Components of the Course Syllabus section. While instructors may prepare the course syllabus in the professional format that best represents the course and meets the needs of students, a template is available to assist in syllabus development.
A copy of your completed syllabus must be provided to your Dean or designee prior to the first class meeting.
Required Course Syllabus Components:
Course title and number
Credit hours
Name(s) of instructor(s)
Office location
Office or Web hours
Course description
Course Content & Learning Outcomes
Course requirements
Methods of evaluation; grading system, including plus and minus grade policy, how grades will be posted
Makeup exam policy
Required and optional texts
Final exam date and time
Other required course material
Syllabus Calendar, Schedule or Agenda. Detail how the learning outcomes are aligned to the activities/assignments.  See the syllabus template below for an example.
Resources
ATF Representatives
| State Articulation Group | ATF Representative | ATF Role |
| --- | --- | --- |
| Academic Advising | Ashley Burkhardt | Lead |
| Academic Advising | Tania Sheldahl | Member |
| Administration of Justice | Mike Davis | Lead |
| Admissions & Records | Sheila Jarrell | Lead |
| Agriculture | Marnee Zazueta | Lead |
| Agriculture | Justin Brereton | Member |
| Allied Health/Health Related Professions | Nancy Bowers | Lead |
| Anthropology | Mike Ruddell | Lead |
| Art | Kris Waid-Jones | Lead |
| Biology | Steve Sparks | Lead |
| Business | Ed Bushman | Lead |
| Chemistry | Paul Smolenyak | Lead |
| Chemistry | Gino Romeo | Member |
| Communication | Mark Woolsey | Lead |
| Computer Science & Computer Info Systems | Deborah Hughes | Lead |
| Dance | NO PROGRAM | |
| Early Childhood Education | LeAnne Lawhead | Lead |
| Early Childhood Education | Larry Grimm | Member |
| Economics | Ed Bushman | Lead |
| Education | Tara O'Neill | Lead |
| Engineering | Liz Peters | Lead |
| English | Karen Palmer | Lead |
| Ethnic Studies | Mike Ruddell | Lead |
| Exercise Science, Kinesiology, Physical Ed & Wellness | Kara Giannetto | Lead |
| Exercise Science, Kinesiology, Physical Ed & Wellness | Charles Lohman | Member |
| Family and Consumer Science | NO PROGRAM | |
| Film & Media Arts | Helen Stephenson | Lead |
| General Education | Joshua Schmidt | |
| Geography | Stephen Doyle | Lead |
| Geology | Beth Boyd | Lead |
| History | Amy Stein | Lead |
| Hospitality | Barb Waak | Lead |
| Hospitality | Robert Barr | Member |
| Humanities | Suzanne Waldenberger | Lead |
| Interior Design | NO PROGRAM | |
| Journalism and Media Arts | NO PROGRAM | |
| Languages | Curtis Kleinman | Lead |
| Mathematics | David Graser | Lead |
| Mathematics | Molly Beauchman | |
| Music | Chris Tenney | Lead |
| Nursing | Marylou Mercado | Lead |
| Nutrition | Kara Giannetto | Lead |
| Parks & Recreation | Joshua Schmidt | Lead |
| Philosophy | Andrew Winters | Lead |
| Physics, Physical Science & Astronomy | Diane Dutkevitch | Lead |
| Political Science | NO PROGRAM | |
| Psychology | Nichole Guzzo | Lead |
| Religious Studies | Andrew Winters | Lead |
| Social Work | Nicole Guzzo | Lead |
| Sociology | Jennifer Jacobson | Lead |
| Sociology | Karly Schauwecker | Member |
| Technology | John Morgan | Lead |
| Technology | Richard Hartley | Member |
| Theatre Arts | Nanette Hofer | Lead |
| Women's Studies | NO PROGRAM | |