Kelly O'Brien
Outstanding Alumni Award 2020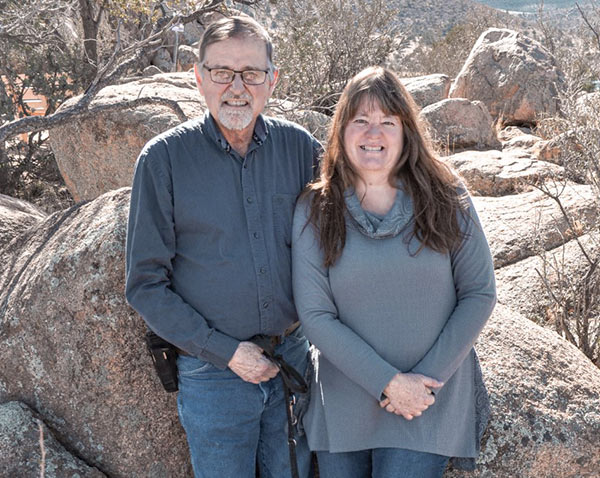 Yavapai College is honoring one of its own this year – a 1981 graduate whose love for people and zeal for higher education shows in every step of her working day.
For her kindness, enthusiasm, and dedication to the students she serves, Yavapai College proudly names Financial Aid Advisor Kelly O'Brien as its 2020 Prescott Campus Alumnus of the Year.
For those in the YC community, this year's honor comes as absolutely no surprise. "Kelly O'Brien is one of the most selfless people I have ever met," Admissions Advisor Shannon Johns said. "She gives from the heart, even when she has nothing left. She is hard-working, helpful, dedicated and a true inspiration."
A Prescott native and fourth generation Arizonan, Kelly first enrolled at Yavapai College in 1978. She became a cheerleader as she worked her way toward her Associate of Arts Degree in Small Business Administration. She married Dave O'Brien, an electrician, in 1980 and graduated in 1981. Kelly and Dave raised two children, Hannah and Hunter, while she worked as Office Manager for Table Mountain Electric, the Prescott business they ran for twenty years.
"They had their own business a long while," daughter Hannah O'Brien explained. "It got to be a struggle toward the end. My Dad got sick. Mom was trying to figure out what she wanted to do." In 2012, Kelly started work in Yavapai College's Answer Center, helping new students navigate the registration, logistics and financial challenges of college.
"It was the perfect person in the perfect place," Hannah said. "School can be stressful. It's a journey with a lot to set up and students often come in nervous. My mom sits with them. She walks them through the process. She tells them, 'these are the things we can do, and we can do them together.'"
Kelly moved to financial aid full-time in 2013, and now works with the Yavapai College Foundation, connecting students to scholarships and other opportunities. Her advocacy has helped countless students reach, continue and finish their degree programs. It also inspired both of their children to attend college at YC. Hannah became a Student Ambassador, graduated in 2017, earned her bachelor's degree from Dixie State University, and now works down the hall from Kelly.
"People ask me, 'Do you really want to work with your mom?'" Hannah laughs. "I do. It's great. She's always positive. Always welcoming. She's a really hard worker, and she always wants to know if there's anything she can do for you."