Advising at Yavapai College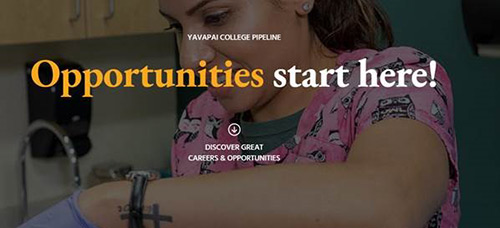 Pipeline AZ - complete an interest assessment to identify potential careers, explore your career interests, and find education and training options that will help you develop the skills you need to achieve your career goals.

Drop-In Advising
Mon, Oct. 16th
No appointment needed! Call (928) 776-2106 to be connected with an academic advisor.
Mon, Oct 16th between 8am - 4pm
Phone, zoom videoconferencing and in-person available
Special programs: Early College | YC Promise | SSS-Trio | VETS
---
Go to  www.yc.edu   →

(upper right hand corner).
Login using your username that was emailed to you at the time you applied (for returning or current students - get login help at www.yc.edu/help.)
Click on the "Your Advisor" link in the upper left corner of portal. The pop-out will show email and appointment scheduling links for your current academic and financial aid advisors.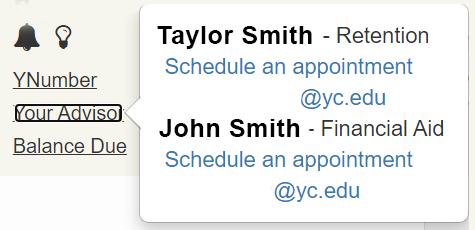 (Early College, YC Promise, SSS-TRIO and those receiving Vet benefits, click here to access the program info)
---
---
Degree or certificate change requests can be done through your academic advisor. To schedule an appointment click on "Your Advisor" in your portal.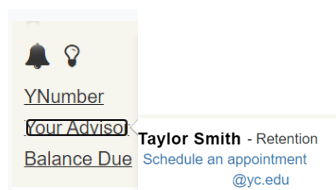 ---
How your advisor can help you
For New Students*
Enrollment advisors assist new students with the following:   

Academic & Career exploration
Selecting degree or certificate
Registering for classes and developing an academic plan
How to navigate the first few weeks of the first semester
(*new to YC or returning students who haven't taken YC classes in the last two semester)
For Continuing Students
Retention advisors assist students with the following:
Identifying career goals
Planning for the upcoming semester 
Modify program of study / academic plan
Transfer planning
Applying for graduation
Academic success support
---
Specialized programs
Supporting student currently enrolled in high school who may be:
Taking Dual Enrollment at their high school
Taking classes at a YC campus via the CTED program
Taking concurrent enrollment courses
Home school students
TRIO SSS is a federally funded program that guides eligible students to create and follow their best path for college success and beyond, including:
Success coaching/ Academic advising
Career exploration and planning
Transfer advising and university visits
Individual tutoring in writing, math, and sciences
Financial aid and scholarship assistance
Leadership development
Cultural enrichment activities
VET services ensures accurate and timely VA certification and support for veterans and eligible family members
They assist veterans and their eligible dependents in using their education benefits toward successful attainment of their educational and career goals through academic and financial aid advising.