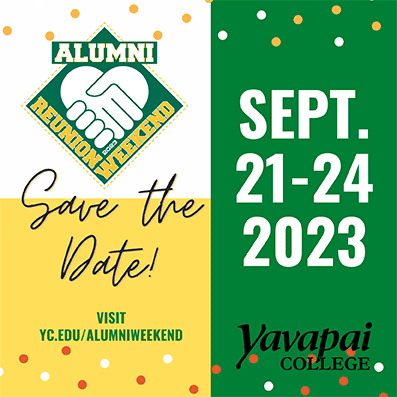 YC's 3rd Annual Alumni Reunion weekend
on the Prescott and Verde campuses!!!
A busy Thursday-to-Sunday schedule will weave old friends, good food, pageantry and memories around favorite events (Roughrider Athletics Golf Classic) and new ones, too (YC Alumni Small Business Summit).
THANK YOU!  To the Title Sponsor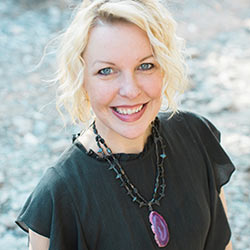 "We're super excited about it." Kammie Kobyleski, Director of Development and Alumni Affairs, said. "We've got business and athletic events and a few surprises planned.
We're expecting a big turnout for Saturday morning's
Fun Run, and this year, we're partnering with the Prescott Film Festival. So, mark your calendars!"
---
Click tabs for schedule of events by date. Secure your RSVP's.
YC Alumni Small Business Summit in Partnership with SBDC
Location: Prescott Campus, ROOM 19-147
Timing: 9AM-12PM
Agenda - pdf
Description: Event highlights include a Marketing Panel, a Lender Panel (How to Get Money for your Biz), a YC Alumni Owned Business Panel, Networking and Photographer on Site for Headshots
This event is a partnership between the Office of Alumni Affairs, the SBDC and the YC student leadership and business program communities.
 
Tickets are FREE - seating is limited.
---
Are YOU a RAD Alum?
Location: In the Game, 2992 N Park Ave, PV
Timing: 6PM-8PM
Description: Come join the RAD Tech Alumni & Friends mixer at In the Game (near Harkins Theaters PV) to re-connect and network with fellow Rad Tech Alumni.
Space is limited so RSVP by Aug. 20
 
Click to RSVP (because you're RAD)
Event flyer (pdf)
YC Staff Alumni lunch on Prescott & Verde campus
Location: Prescott & Verde Valley Campus/TBD
Timing: 11AM-1PM
Description: This event is a private event for Yavapai College Staff and Faculty who also attended YC as students. Contact: linda.brannock@yc.edu. Stay tuned here for more updates on timing, location and RSVP link
---
Athletics Alumni Mixer
Location: State 48 Hometown BBQ
Timing: 5:00pm - 7:00pm
Description: Catch up and break bread with other Yavapai College alum at State 48 Hometown BBQ located a short drive from campus in downtown Prescott. After filling up on some great BBQ, follow us over to the gym at Walraven to catch Roughrider Volleyball take on Central Arizona College at 7:00 pm. Check out the menu at state48hometownbbq.com. Contact shaun.mcdonald@yc.edu
 
For more information and to register here for this free event
---
Athletics Volleyball Game
Location: Prescott Campus, Walraven Gym
Timing: TBD
Description: - Cheer on Coach Lucas and our Lady Roughriders as they take on a conference rival, Central Arizona College. For more info on YC Volleyball please go to volleyball website.
---
---
---
---
Roughrider Athletics Assoc. Golf Classic
Location: Antelope Hills Golf Course
Timing: 8AM Shotgun start
Description: Join YC Athletics for a fun competitive round of golf at Antelope Hills Golf Course. A lunch and an awards ceremony at the course's club house will follow as we present the winners of the event and contest holes.


September 19-24: Prescott Film Festival
Prescott Film Festival
Location: Jim & Linda Lee PAC
Timing: Various Times
Description: The Prescott Film Festival (PFF) is the premiere forum for international and independent cinema in Central Arizona Highlands. Focusing on filmmaking and storytelling excellence, PFF serves as a creative center for film, with workshops, live music and the celebration of the art of independent film. PFF offers unmatched audience participation and engagement!
From shorts, features and even a silent film with live accompaniment, this year we will once more present an array of films selected to be "movies that move you." Join us for the 2023 13th Prescott Film Festival September 19th – 24th!
Stay tuned here for more updates and film descriptions at http://prescottfilmfestival.com/
Sponsors!
Are YOU interested in sponsoring Alumni Reunion Weekend? Click here to see the benefits of partnering with the Alumni Office at this annual event. 
Click here for the sponsorship form (pdf) | Click here to register as a sponsor



Special thanks to the Exclusive Hotel Sponsors for Yavapai College!
---
Book with the hotels directly for Alumni Reunion Weekend using codes YA3T or YA34 and be sure to mention your YC-related reason for visiting.
SpringHill Suites by Marriott
(928) 776-0998
Residence Inn by Marriott
(928) 775-2232