The Literary Southwest
Readings and conversations with writers from the west and beyond: distinctive voices, diverse backgrounds and multiple genres. All events presented admission free and open to the public
---
An Evening with
Rebecca Skloot
Friday, April 17, 2020 - 7 p.m.

Watch live stream here | YC's Youtube channel
---
Rebecca Skloot is the author of the #1 New York Times Bestseller, The Immortal Life of Henrietta Lacks, which was made into an Emmy-nominated HBO film of the same name starring Oprah Winfrey.
Her award-winning science writing has appeared in The New York Times Magazine; O, The Oprah Magazine, and many other publications. A specialist in narrative science writing, she has worked as a correspondent for WNYC's Radiolab and PBS's Nova ScienceNOW.
The Immortal Life of Henrietta Lacks, Skloot's debut book, took more than a decade to research and write, and instantly hit the New York Times best-seller list, where it has remained for more than seven years since its publication. The Immortal Life was chosen as a best book of 2010 by more than 60 media outlets, including Entertainment Weekly, National Public Radio, People Magazine, and The New York Times. It has been translated into 25 languages and has won numerous awards, including the National Academies of Science Best Book of the Year award.
Skloot, who is the founder and president of The Henrietta Lacks Foundation, has a B.S. in biological sciences and an MFA in creative nonfiction. She has taught creative writing and science journalism at the University of California Berkeley, New York University, University of Memphis, and the University of Pittsburgh. She is a regularly featured speaker at conferences and universities worldwide.
Skloot currently lives with her dog Clarence and cat Phineas in Oakland, California, where she is working on a new book about humans, animals, science, and ethics.
Special event presented in conjunction with the Yavapai College Rider Reads Program
---
An Evening with
Craig Johnson
Friday, February 14, 2020 - 7 p.m.
Prescott Campus, Library
---
Craig Johnson's latest novel Land of Wolves is the fifteenth entry in the Walt Longmire mystery series, which has garnered popular and critical acclaim.
The Cold Dish was a Dilys Award finalist and the French edition won Le Prix du Polar Nouvel Observateur / BibliObs. Death Without Company, a Wyoming State Historical Association's Book of the Year, won France's Le Prix 813. Another Man's Moccasins was a Western Writers of America's Spur Award winner and the Mountains & Plains Independent Booksellers' Book of the Year, and The Dark Horse, the fifth in the series, was a Publishers Weekly Best Book of the Year.
Junkyard Dogs won the Watson Award for a mystery novel with the best sidekick, and Hell Is Empty, selected by Library Journal as the Best Mystery of the Year, was a New York Times best seller, as are the rest of the series. The Walt Longmire series is the basis for the hit Netflix drama, Longmire.
Along with the full-length Longmire books, Johnson also has published novellas and short story collections. He lives in Ucross, Wyoming, population twenty-five.
---
Thank you sponsors
The Hassayampa Institute presents The Literary Southwest is made possible by Yavapai College and the Yavapai College Foundation, with additional support provided by Peregrine Book Company.
---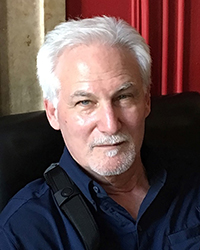 Jim Natal
Literary Southwest Program Director
---
Jim Natal helped found the Hassayampa Institute's The Literary Southwest series at Yavapai College in 2008 and has served as series director since then. Prior to that he curated and co-hosted literary series and events in Los Angeles for more than 10 years.
Natal is the author of five poetry collections, most recently Spare Room: Haibun Variations and 52 Views, both written entirely in the centuries-old Japanese haibun form. His previous full-length collections include Memory and Rain; Talking Back to the Rocks; and In the Bee Trees.
He is a multi-year Pushcart Prize nominee whose poetry has appeared in numerous journals and anthologies. A former executive for the National Football League's Creative Services Group in Los Angeles for 25 years, Natal received his MFA in Creative Writing from Antioch University Los Angeles in 2005.
With his wife, graphic designer and book artist Tania Baban, he founded indie publishing house Conflux Press in 2003.
---
The Literary Southwest: Featured Writers 2008-2019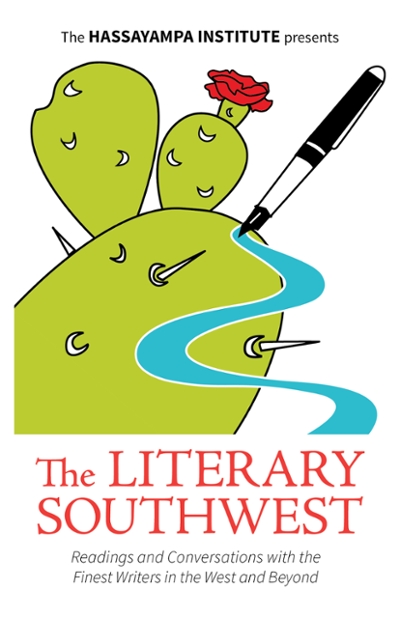 Kim Addonizio, Ralph Angel, Jimmy Santiago Baca, Dorothy Barresi, Beau Beausoleil, Marvin Bell, Sherwin Bitsui, C.J. Box, Gayle Brandeis, Ron Carlson, Ana Castillo, K. L. Cook, Bernard Cooper, Ann Cummins, Marsha de la O, Alison Hawthorne Deming, Natalie Diaz, Chitra Banerjee Divakaruni, Mark Doty, Camille T. Dungy, Geoff Dyer, B. H. Fairchild, Janet Fitch, Alan Dean Foster, Richard Garcia, Eloise Klein Healy, Steve Heller, Laraine Herring, Naomi Hirahara, Jane Hirshfield, Linda Hogan, T. R. Hummer, Sean Huze, Joe Ide, Tara Ison, Craig Johnson, Ron Koertge, Jim Krusoe, Ilyse Kusnetz, Laila Lalami, Susan Lang, Layli Long Soldier, Anthony Marra, Demetria Martinez, Domingo Martinez, Gerald McDermott, Christopher Merrill, Dunya Mikhail, Jane Miller, Manuel Muñoz, Sean Nevin, Naomi Shihab Nye, Susan Orlean, T. Jefferson Parker, Jewell Parker Rhodes, Alberto Rios, Sharman Apt Russell, Kay Ryan, Benjamin Alire Saenz, David St. John, James Sallis, Lisa See, Rebecca Seiferle, Arthur Sze, Susan Terris, Lynne Thompson, Laura Tohe, Peter Turchi, Brian Turner, Charles Harper Webb, Al Young, Ofelia Zepeda