Professional Development - Toastmasters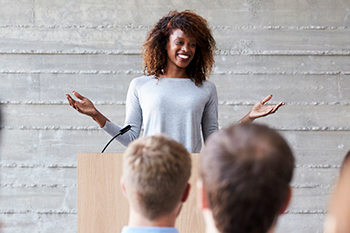 Yavapai College invites members of its faculty, staff and administration to invest in professional development by honing their communication and leadership skills through the Toastmasters International program.
---
Fees would be $110 annually under normal conditions, but since the college wants to invest in your professional development, the cost will be incurred by YC for all full-time and part-time regular employees (pending the approval of your supervisor to participate as a member). Employees who are not full-time or part-time regular are still invited to join Toastmasters, though the cost would be the responsibility of the individual employee.
For employees at the Prescott, Prescott Valley, Chino Valley, and CTEC, the local Toastmasters meet at the Northern Arizona VA Health Center every Thursday from 12-1 pm (500 N. State Route 89, Building 161, Room 245A, Prescott, AZ 86313).
For those on the Verde Valley Campus and at the Sedona Center, the local Toastmasters meet at the Cottonwood Village Retirement Center every Monday from 12-1 pm (201 E. Mingus Ave Cottonwood, AZ 86326).
Sedona Center employees may also participate in Toastmasters at the Sedona Community Center every Tuesday from 7-8 am (2615 Melody Ln, Sedona, AZ 86336).
If this is of interest to you, please notify your immediate supervisor. An attached FAQ can provide more information about Toastmasters and its structure.
---
Toastmasters Fees
The cost will be incurred by Yavapai College with the approval of your supervisor to participate as a member.
Every six months (September and March), it is $45.00 international dues and $10.00 club dues = $55.00 total. If you are brand new to Toastmasters, the first payment will include a $20.00 one-time new membership fee.
$130 for the first year per employee; $110 to renew per employee.
---
---