OneCard (ID Card)
for Meal Plans, Residence Halls, and Identification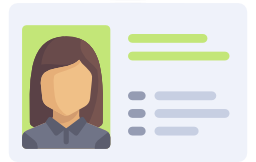 Yavapai College OneCard
The OneCard is Yavapai College's identification card for students, faculty, and staff.
Use your OneCard to access your student or employee records, use your meal plan, setup a Flexicash account, check out materials at the library, and to access secured buildings on the campuses.
OneCards are valid for the duration of enrollment or employment at Yavapai College.
---
How do I get my OneCard?
Enroll for the current semester.
You will need proof of registration, either your class schedule or payment receipt, and a current photo ID.
Visit the OneCard station at the Prescott campus (Bldg. 1), Verde Valley campus (Bldg I), or the CTEC campus and your ID will be available immediately.*
If you are a returning or continuing student, present your current class schedule and your OneCard ID for a new semester validation sticker.
If you are a new employee, bring your Employee Photo Identification Card form from Human Resources and a current photo ID to the OneCard station in Bldg. 1 Lobby in Prescott, or Bldg. I in Verde Valley to obtain your OneCard.
*OneCard photos can be taken at the Chino Valley Ag Center, Sedona or Prescott Valley but will be available to pick up at that location within 3 business days.
---
What is a Flexicash Account?
Flexicash is a deposit you make in order to use your OneCard as a debit card. Funds can be deposited with the cashiers in Prescott (Bldg. 1), Verde Valley (Building I), as well as deposit funds to your Flexicash account online. You will need your Y-number when making a deposit.
Bookstore
Common Grounds Cafe
Library
Mail Center
Rider Diner
WEPA printing stations
---
Lost Your OneCard?
Go to a OneCard location for a replacement. The current cost for a new card is $25. For more information, please call Ryan Harms at (928) 776-2142.
---
Discounts
A 10% discount applies when you use Flexicash at the Rider Diner and Common Grounds Cafe. Your Flexicash balance will print on your receipt when you use it, or check your balance through the myYC Portal.
Your YC OneCard also qualifies you for discounts at places such as movie theaters, restaurants, and the YC Performance Hall. Swimming at the Yavapai College Pool is only $2.00 per swim with your OneCard.
Download the complete list of student discounts. Some discounts apply to Yavapai College employees as well.