Theresa Winn Lode
Yavapai College Alumnus 2017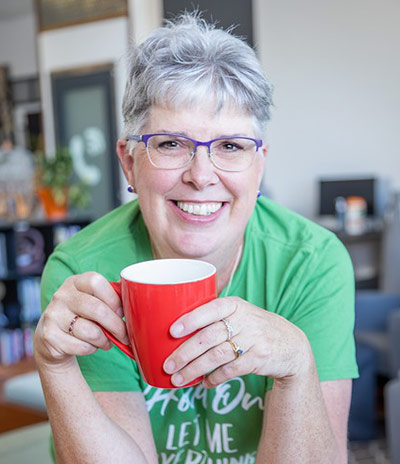 What are you doing now?
I have been a professional organizer for many years, helping people unclutter their lives. My time at YC, and in particular the life coaching training that I received there, opened a whole new inside/out approach on organizing that creates sustainable change.
I teach my clients and my students (when COVID isn't shutting down Community Education) that clutter comes in three forms: Home, head and heart.
The passion for this only grows as I see the positive and life-changing benefits when folks not only purge the junk from their closets, but they also unclutter their over busy schedules and the undealt with issues in their hearts.
I explain this approach in my book, "Badass Organizing - a short guide to uncluttering your home, head, and heart."
Soon my "Unclutter Your Life" workshop will be in an online platform so I may help more people clear clutter and gain clarity on their lives. It is my life's mission.
---
Tell us about your career/biz life
While COVID has my onsite organizing halted for the time being, I offer virtual organizing and life coaching via Zoom. I am also working on a two-year program to become a spiritual director.
I have authored four books (all on Amazon); I am tossing around ideas for my next book. I am developing my YouTube channel, "Unclutter Your Life" as well, and intend to launch another channel that focuses on Spiritual Direction.
It is an exciting time in my life!
---
How did YC help contribute to your success and goals in life?
How do I even being to answer this question? I love, love, LOVE YC and am so grateful for the role it has had in my life.
Not only did two of my children graduate from YC, I finished a degree that I started (ahem) many, many years ago. (I was an LPN back then; it wasn't a degree program.)
Not only is YC affordable, the education I received was outstanding.
One is NEVER too old to return to school. I'm so glad I did. I still feel very much a part of the YC community.
---
Special memories at YC?
The graduation ceremony was one of the most profound experiences of my life. The bagpipes, the honor given to all the students, the faculty standing by, applauding. My eyes get teary just recalling.
Especially when I consider how many of those kids may not have succeeded without the vocational options or the smaller personal size of a junior college.
---
Special person./mentor/faculty:
Yes, yes, YES. Dr. Mark Shelley and Laraine Herring. I had Mark for Psychology and for coaching. I will forever be grateful to him for not only being a wonderful instructor, but a coaching role model as well. I learned so much from him and am proud to call him a friend.
I have only attended workshops that writing/psychology professor Laraine Herring has taught. (I wish I had taken her English class.) She is one of the most whole-hearted, generous people I have ever met. And a fantastic author.
Because I am also an author/writer, Laraine inspires me to write from the heart.
---
Areas of interest?
I am learning Spanish and am a perpetual student in the areas of spirituality, psychology and whatever else stirs up my curiosity.
I love playing the piano, hiking and reading.
---
Additional comments:
Thank you for the honor of listening to my story! Yavapai College will always have a very special place in my heart.
---
Theresa's Business website – The Zany Sage