Mike Pantalione
Most Winning Men's Soccer Head Coach for Yavapai College retires January 15, 2021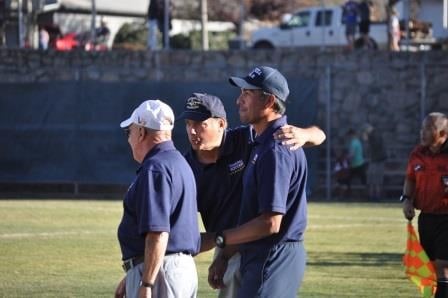 In words from Coach Pantalione himself, "On this day in 1986, I mailed a letter to Athletic Director Mrs. Lynn Merritt expressing my interest in coaching soccer at Yavapai College. She was kind enough to write back a week later informing me the college is considering adding a men's soccer program. We kept in touch for two years and the rest is history.
Exactly four years later November 18, in only the 39th game since the program's inception, Yavapai College captured the 1990 NJCAA Men's Soccer National Championship. An epic championship match yields Yavapai's sixth national soccer title on November 18, 2007. Thus, it is fitting on this date to announce the following: Effective January 15th, 2021, I will be retiring from Yavapai College. It has been my pleasure serving as the only head soccer coach for the college since the program's inception in 1988.
Special acknowledgment for allowing me to guide, interact and support every one of my student athletes during my tenure. It has been my privilege working with and knowing all of you." Pantalione adds, "Continue success in all your endeavors! Best wishes always to you and your family."
Michael Pantalione has had a 40-plus year career coaching soccer, including 32 years at Yavapai College. During his tenure as head coach of the Roughriders, Yavapai has become the most successful junior college soccer program in the nation with 7 National Championships, 19 Final Fours, a combined 43 Region and District titles, along with 28 Conference titles. Mike is a 7-time NJCAA and 5-time NSCAA National Coach of the Year recipient and was selected into the NJCAA and ACCAC Hall of Fame and is a member of the National Italian American Sports Hall of Fame.
In his storied career, Mike averaged over 20 wins per season and is the all-time leader in JUCO wins.