Kari Warne
Prestigious All-USA scholarship caps Kari Warne's 'incredible journey' at Yavapai College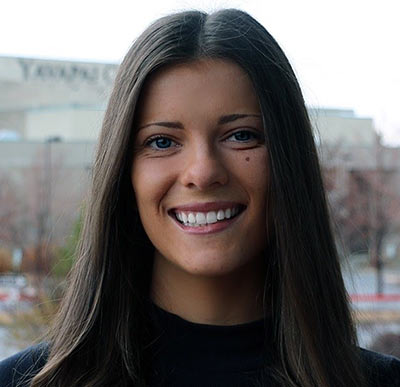 The fact that she is one of only 20 community college students nationwide to earn the prestigious All-USA Academic Team Scholarship hasn't quite sunk in for Kari Warne. "It doesn't feel real. I haven't wrapped my arms around it yet," the Yavapai College justice studies student said of the All-USA nod announced earlier this month. But humbly acknowledging the truth of the matter, Kari said, "I'm just honored. I'm truly honored to be part of this team and I'm excited for the future."
The All-USA Scholarship news followed Kari's selection to the All-Arizona Academic Team, another hallmark of what she described as an "incredible journey" at YC. The two lucrative scholarships are based on her academic, leadership and community service achievements in college and the community. Kari's resume is brimming on all counts.
Along with College Honors, Phi Theta Kappa Honor Society and Students of Leadership appointments, Kari serves as a part-time campus safety officer for the YC Police Department and a part-time assistant at a local law firm. Since last summer, she has served as an AmeriCorps intern, a volunteer post that has her helping high schools around the state implement anti-bullying and anti-violence initiatives developed by the National Center for Prevention of Community Violence. The internship led to Kari's appointment to the advisory board for the NCPCV, a volunteer position she still holds.
Kari's multiple volunteer and employment responsibilities haven't hurt her academically. She has maintained a cumulative 3.8 GPA while carrying heavy class loads. This semester, her last at YC, Kari is taking 19 credits and earning all As so far. At semester's end, she'll have two associate degrees and two academic certificates to her name.
YC Honors Department Director Denise Woolsey said Kari's "drive, caring, compassion and enthusiasm" sets her apart and deserving of national scholar recognition. "Kari is an exceptional student with a dedication to learning. She displays the characteristics and desires of someone who is determined to be educated but never takes her education or the opportunities afforded by her education for granted."
Kari chose to stay close to home and attend YC after she was invited to join the YC Honors Program – a rigorous, tuition-free academic program in which students develop and usher myriad leadership development, community service and civic engagement projects. "It just felt right," she recalled of her decision to become a Roughrider after graduating from Tri-City Prep in Prescott.
"Yavapai College has been absolutely unlike anything I ever expected. The connections, the number of professors with doctorate degrees who are so involved in student lives and dedicated to seeing their students succeed -- I would not have thrived as much as I have at another school or university," Kari said, adding, "Yavapai College has pushed me to really go as far as I could go and I'm still going."