Coach Hugh Bell
Yavapai College announces retirement of long-time Men's Soccer Assistant Coach Hugh Bell January 15, 2021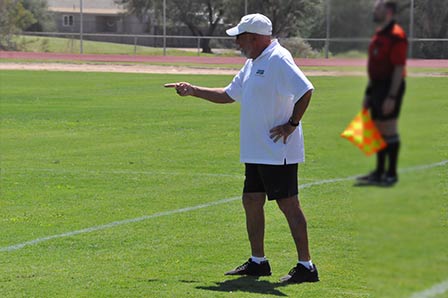 Bell was the hired in 1992 as the first men's soccer assistant coach. Hugh has been an integral part of 6 NJCAA National Tournament Titles. He was inducted into the NJCAA Soccer Hall of Fame. Additionally, Bell was honored with the AFLAC National Assistant Coach of the Year in 2003 and was a finalist for the NSCAA National Assistant Coach of the year in 2004.
"Hugh has been an important part of the Roughrider soccer program for 28 years. His knowledge of the game and his tireless work ethic has contributed to the success of the soccer program", said Athletic Director Brad Clifford. "He has been a great ambassador for Yavapai College and Roughrider Athletics for many years."
The announcement comes on the heels of long time Head Coach Mike Pantalione announcing his retirement after 32 years at the helm. The 2020-21 soccer season will begin in March with conference play starting in April.