Matt and Albert Mendibles Jr
Shortstop, number six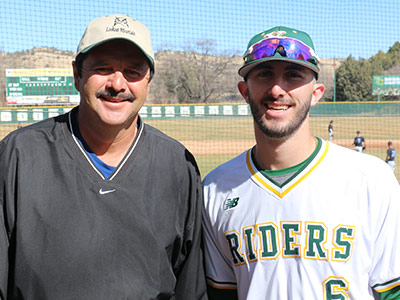 When the Yavapai College Baseball team takes the field this season, Albert Mendibles Jr. will be in the stands watching number six, his son Matt, guard the Roughrider infield. He'll analyze Matt's throws from shortstop, and his contact at the plate, for review and discussion over dinner.
Albert will be forgiven if – once or twice over the season – he flashes back 33 seasons to his time guarding the Roughrider infield: same position, same green-and-gold uniform, and the same number six as the taller, bearded Mendibles now crouching between second and third.
Albert was a member of YC's storied 1985 and 1986 teams, that won the state and regional championships and played in the Junior College World Series. He's pleased to see Matt follow in his footsteps. Other colleges came knocking, but Albert knew from experience that Matt would benefit from the stellar coaching and statewide competition he'd find at YC. "I told him, 'I know you dream of playing for a Division I team.'" Albert said. "'But if you go, you're not going to play, you're going to sit."
"YC is one of the best programs in the country for a junior college. Players come here to either get drafted or go to a D-I school." It worked for Albert, who went on to play Division I ball at the University of Louisiana, LaFayette. And it has worked for Matt, who will transfer to D-I University of San Francisco next year.
"It has been a lot of fun," Matt said. "I've made friends that I'll stay friends with a long time, and it opened a lot of doors for my future." With so much baseball savvy in one family, it seemed fair to ask: who is the better shortstop? The Mendibles call it a draw: "I think I was a better contact hitter," Albert allows, "but Matt hits for a lot more power than I ever had."
And what about the future? Will a third Mendibles wield a Roughrider bat one day? Father and son aren't making any promises.
"That's out of my hands," Albert replied.