Lisa Russell
A Vintage Blend of Work and Passion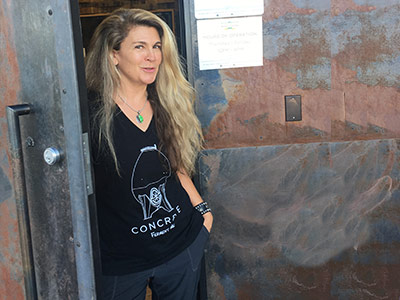 "Wine melds two things together that I absolutely adore: art and science." Lisa Russell says.
As Tasting Room Manager for YC's Southwest Wine Center, Russell knows every inch of wine production, from proper soil composition to the perfect pour. "It's hard work. You know how they say 'its lucky babies and puppies are cute – because they're a lot of work'? Well, wine is the same way." She laughs. "But at the end, people have this amazing, ceremonial thing to share with one another."
A Cornville resident and a graduate of YC's Viticulture and Enology Program, Lisa enjoys a challenge. Like the wines she manages, her own career is a product of cultivation, improvisation and patience.
As a student at Mt. Mary University, Lisa enjoyed a wide range of interests and investigated multiple careers in search of "one that would light me up."
"I got into pre-law, thinking about a career in environmental law," she recalls. "I thought of being an art conservator." She found that interior design satisfied her creative side. "I worked as an interior designer for 18 years, and loved it." In time, Lisa was able to incorporate environmental awareness – another passion – into her work. "I joined a sustainable design studio. It was a start-up, helping retailers minimize their environmental impact." But after a few years of wearing multiple hats and doing countless presentations, she burned out. She took a year off, and moved to Prescott.
"I wanted to do something different, grow something, and work closer to the land." She stumbled on an article about Arizona's fledgling wine industry. "I thought: 'Wine, really? In Arizona?'" The article led to a glass of wine with Nikki Check, then Yavapai College's Director of Viticulture. "Everything aligned and I decided to join them." Lisa and her father, Bill Anderson, decided to take the program together. Lisa won Viticulture Student of the Year honors in 2015, and earned her Associate's degree in Viticulture & Enology in 2017.
"It gave me a new career path, but it was also something I needed as a human being," she says. "I even loved getting up at 5 a.m., to go out in the fields. It was a lifestyle shift, a simpler life. But I looked forward to it every day."
Now, fate finds Lisa back where she learned it all, this time as a mentor and ambassador. "I get to be part of this growing wine industry in Arizona. They are like family to me. We help each other out, lift each other up. You're constantly learning things, and sharing them. That's what I love about wine. You're working with a living thing. Wine, like humans, isn't static. It constantly shifts and evolves."