Jojo Romero
A fourth-round pick by the Philadelphia Phillies in Major League Baseball's 2016 Draft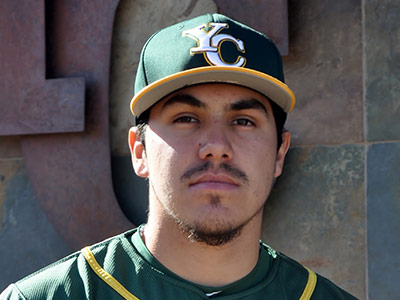 JoJo Romero is still on his way up.
A fourth-round pick by the Philadelphia Phillies in Major League Baseball's 2016 Draft, the former Roughrider was named the club's Minor League Pitcher of the Year last season, posting 10 wins and a combined 2.16 ERA across two levels.
Romero's numbers are also a testament to the success of Yavapai College's Baseball program. After capturing their fourth NJCAA National Championship in 2016, Rider alumni are now shining on an individual level, as YC Baseball establishes itself as a hotbed for pro talent.
To date, 22 professional baseball players have ties to Yavapai College, including five major leaguers: Chance Adams (New York Yankees), Cole Calhoun (Los Angeles Angels), Willie Calhoun (Texas Rangers), Ken Giles (Toronto Blue Jays), and Kirby Yates (San Diego Padres).
Romero and Nate Easley became the latest YC alumni to join the professional ranks in 2016. Easley was drafted in the 23rd round by the San Diego Padres. Romero, taken by the Phillies with the first pick of the fourth round, became the highest YC draft pick since the Red Sox selected Curt Schilling in the second round in 1986.
"I'm always proud of our alumni when they get the opportunity to play professional baseball and live out their dream,"" YC Baseball Coach Ryan Cougill said.
This past season, Romero was promoted to Double-A. There, as one of the youngest pitchers on the Reading Fightin' Phils, JoJo tied for second on the team with seven wins and struck out over 100 batters on the year.
"As a program, we want to help guide our student-athletes on their successful path."" Cougill said. "For some, this includes professional baseball. For others, it does not. Any path, as long as it's successful, brings great pride to our program.""