FEC family reunion: First FEC students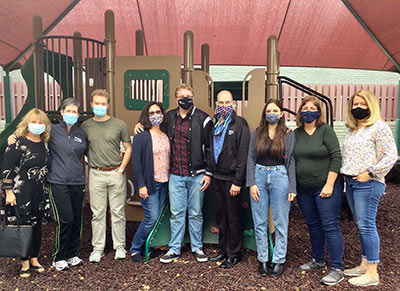 I enjoy reading and spending time with my close friends. I'm active in my church. I am a single parent to a now-college-age child, so we are working on "adulting skills" now.
When the Del E. Webb Family Enrichment Center opened in 2007, Julie Woolsey, Cooper Mauldin and Bobby Hoskovec were among the first pre-kindergarten class students. All three are graduating from Prescott High School this year. Their parents, all YC employees then and now, joined them and their beloved teacher for a tour of the early childhood teaching and learning center on the Prescott campus and a trip down memory lane.
The memories gushed like a waterfall as did a few nostalgic tears when members of a unique and history-making Yavapai College family gathered earlier this month at the Del E. Webb Family Enrichment Center.
Julie was won over on day one by the FEC's breakfast of animal-shaped pancakes, was a rapt fan of puppet shows and regularly wrapped herself in silk scarves.
Cooper was an avid builder with blocks and ably helped steer a Chinese New Year dragon around campus to the delight of college employees.
Bobby was slightly more prone than his peers to acquire playground injuries and loved to sing at home the songs he learned at school.
Julie (Woolsey), Cooper (Mauldin) and Bobby (Hoskovec) were among the first students at the FEC – YC's early childhood teaching and learning laboratory on the Prescott campus. Thirteen years after making their education debuts there, all three are graduating from Prescott High School.
Along with being FEC inaugural-year alumni, the trio is connected to YC by their parents -- all of whom worked at the college then and do now.
Julie's mom, Denise, is the college's Honors Program director and Phi Theta Kappa advisor. Her dad, Mark Woolsey, is a full-time communication faculty member; Cooper's mom, Lisa Schlegel, is a human resources manager. Bobby's dad, Bob Hoskovec, is an academic advisor. The parent group, minus Mark but including Bobby's mom, Jennifer Kight, former beloved FEC Teacher Lenka Studnicka, and former teacher and now FEC Director Jeannine Skousen comprised the FEC family reunion.
Read the rest of the story here