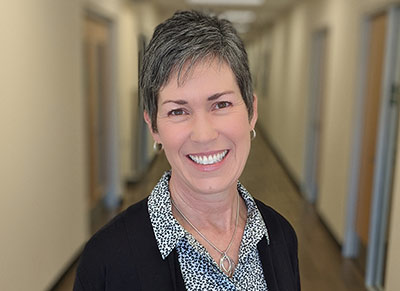 Roger Runyan 2021 Scholarship Recipient -
Lisa Schlegel
I am honored and appreciative to have received the Roger Runyon Career Enhancement Award in 2021. I am pursuing my Doctor of Education degree in Organizational Leadership with a Higher Education emphasis through Grand Canyon University and this award covered my costs for attending my first residency in June 2021.
The whole degree is online except for two residency courses which are held at the GCU hotel in Phoenix with students from around the country pursuing a variety of doctorate degrees. This week-long intensive course was so valuable to meet other students, share our experiences as online doctoral students, and make significant progress on my dissertation plan with the support and feedback from two excellent instructors.
My dissertation will focus on whether there are differences in final grades between students in courses using Open Educational Resources and courses using commercial textbooks, especially for first-generation and Hispanic students at Yavapai College. Therefore, the Roger Runyan Scholarship was applied toward a project that will hopefully benefit Yavapai College and the development of our Open Educational Resources program.
Thank you very much!