Z-Classes and Z-Degrees
Reducing college costs through zero-cost textbooks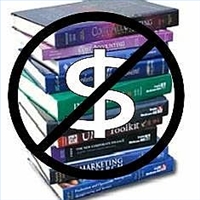 Yavapai College (YC) is working to lower textbook costs for students. Many core courses have sections that are taught as a "Zero Cost Textbook" class using openly licensed high quality online textbooks (also known as Open Educational Resources). These textbooks and course materials do not cost students any money. These "Zero Cost Textbook" sections are known as Z-classes.
What is a Z-class?
Z-classes provide the same quality education as regular classes, minus the cost of a textbook.
Materials are available on or before the first day of class through your Canvas account.
What is a Z-degree?
In addition to Z-classes, YC is proud to offer an Associate of Applied Science (AAS) in Management as a Z-degree. Through the dedicated efforts of YC faculty and staff, students now have the option to take courses as part of the Z-degree and could potentially graduate with no textbook costs!
Z-degree classes are regular classes that include the Z-class/"No Cost OER Textbooks" designation. You may choose to take any class that meets the degree requirements, with the understanding that if it is not a Z-class, you may be required to purchase a textbook.
---
Frequently Asked Questions
What type of resources does a Z-class use?
Open Textbooks
Open Courses
Other Open Educational Resources (OER)
Library Resources
Free, Copyrighted Resources Under Fair Use
Works in the Public Domain
Faculty-Developed Materials
Who can take a Z-class?
Anyone can take a Z-class (usual class pre-requisites apply)
How do I register for a Z-class?
When searching for your classes, choose the "No Cost OER Textbooks" filter under the Attribute category.
Your advisor can also help you get started - schedule an appointment
How do I access and use the materials in my Z-class?
Through your Canvas account on or before the first day of class
May be viewed online, downloaded to a phone or other personal device at no cost.
May be printed through YC's printing services at a low cost. Submit request via the Student Course Materials Print Order form
Are class supplies also free?
No, some Z-classes may require you to purchase supplies such as a notebook, yoga mat, tools, etc.
When searching for classes, click on the class title (e.g. "Basic Accounting") to get detailed information about the course including any special fees.