Dual Enrollment Conference
Friday, February 28, 2020 • Verde Valley Campus • (928) 634-6527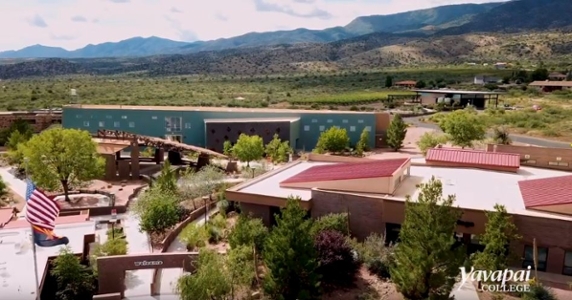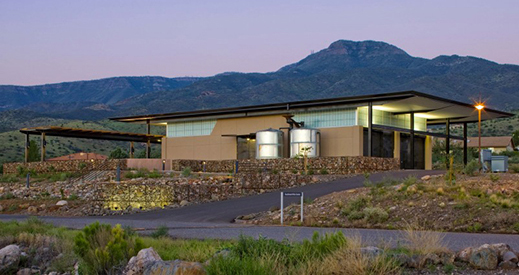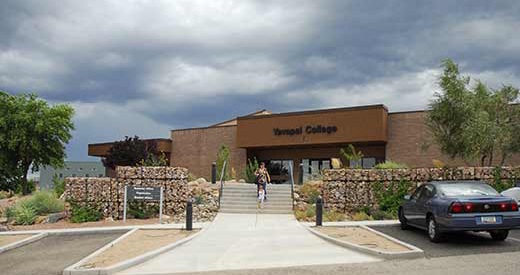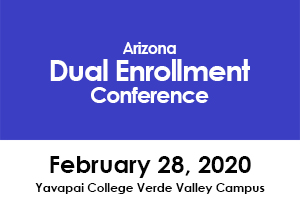 Yavapai College, in partnership with the National Alliance of Concurrent Enrollment Partnerships (NACEP) and Western Maricopa Programs of Study Consortia (WMPOS), is hosting the Arizona Dual Enrollment Statewide Conference. The purpose of this conference is to provide Arizona community college administrators, dual enrollment coordinators, directors, and faculty, Arizona dual enrollment high school partners to include administrators, Career Technical Education (CTE) Directors, dual enrollment liaisons, teachers, and counselors an opportunity to:
Develop opportunities for statewide collaborations with Dual Enrollment professionals from across the state of Arizona
Increase awareness among Dual Enrollment practitioners of statewide efforts in support of Dual Enrollment
Share operational best practices, regarding both policies and programs, and encourage a unified effort and focus
Examine challenges in finding qualified high school instructors with the new HLC requirements
Increase awareness with the Arizona A-F School Accountability System and how high schools and colleges can partner to support these metrics
Increase awareness on Guided Pathways
---
Agenda
*subject to change
Conference Date: February 28, 2020 (*evening mixer on Thurs. eve, Jan 27th)
Location: Yavapai College Verde Valley Campus - 601 W. Black Hills Dr., Clarkdale, AZ 86324. Campus Map | Directions
Cost: Free
Schedule:
Thurs., Feb. 27, 4-6 p.m. -- Network Connections event -- held at the Southwest Wine Center at the Yavapai College Verde Valley Campus. Complimentary wine and appetizers served.
Fri., Feb. 28, 8:30 a.m. - 4:00 p.m. -- General Conference -- begins in Bldg. M, Room 137 at the Yavapai College Verde Valley campus. Lunch will be provided.
Lodging: no specific conference hotel. See Lodging tab for hotel information
Session proposals may be submitted via the form link on the "For Presenters" tab above
---
Contact
Heather Mulcaire
Email: Heather.Mulcaire@yc.edu or Phone: (928) 634-6527
---
2020 AZ Dual Enrollment Conference Planning Committee
E.J. Anderson………………………… Rio Salado College
Dean Holbrook……………………… Yavapai College
Candy London……………………….. Northland Pioneer College
Heather Mulcaire………………….. Yavapai College
Barbara Richardson……………….. Cochise College
Rosanne Marquez-Yniguez…….. Maricopa Community Colleges
Hosted by Yavapai Community College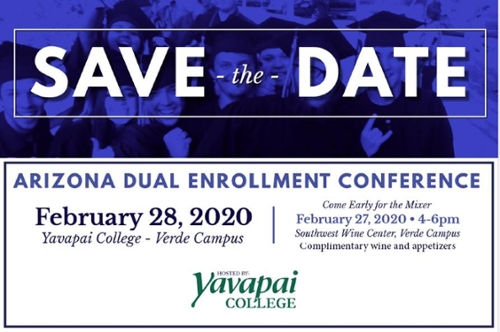 Conference Schedule
Conference will be held on February 28, 2020 on the Yavapai College Clarkdale campus in the Verde Valley. Lunch will be provided.
---
(*Detailed schedule subject to change)
Thursday, Feb. 27:
Come Early! Pre-conference Network Connections Event held at Southwest Wine Center -- YC Verde campus
Campus Map | Directions
Time:
Event
4:00 - 6:00 p.m.
Mixer - complimentary wine and appetizers will be served
Friday, Feb. 28:
Conference -- held at the Yavapai College Verde Valley campus
601 W. Black Hills Dr., Clarkdale, AZ 86324 Campus Map | Directions
| Time: | Event |
| --- | --- |
| 8:30 a.m. | Registration |
| 9:00 a.m. | Welcome and Introductions |
| 9:30 a.m. | Keynote Speaker |
| 10:30 a.m. | Break |
| 10:45 a.m. | Breakout Sessions |
| 12:00 p.m. | Lunch (will be provided) |
| 1:00 p.m. | Breakout Sessions |
| 2:15 p.m. | Break |
| 2:30 p.m. | Arizona Best Practices Showcase and Panel Discussions |
| 4:00 p.m. | Closing |
Keynote Speakers
General Keynote -- Sarah Hooker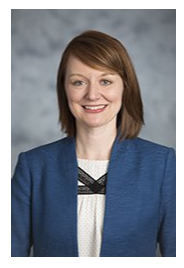 Sarah Hooker is an associate director at Jobs for the Future (JFF), a national nonprofit that drives transformation in education and workforce systems to promote economic advancement for underserved populations. Her work focuses on improving systems alignment and closing equity gaps in the transition from high school to college and careers.
Based out of JFF's Oakland, California office, Sarah facilitates strategic planning and provides technical assistance for local and state leaders as part of JFF's regional cross-sector initiatives focused on educational attainment and inclusive economic development in California and nationwide. She has authored several publications on policy and practice issues related to dual enrollment policy and early college high schools, with an emphasis on how these strategies can benefit students from underrepresented groups.
Before joining JFF, Sarah was the associate director of policy and language access at the Office of Civic Engagement & Immigrant Affairs in the City and County of San Francisco. She also worked with the Migration Policy Institute in Washington, DC, where she conducted research and policy analysis on immigrant and English language learner education. In a prior position with the American Youth Policy Forum, Sarah authored publications on evidence-based college readiness programs and convened briefings and site visits connecting policymakers to promising practices.
Sarah has a master's degree from the University of Chicago School of Social Service Administration and a bachelor's degree from Pomona College
Luncheon Keynote -- LorryBeth Wilson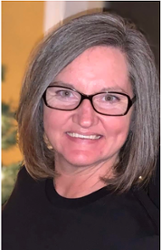 LorryBeth Wilson is the mom of two beautiful girls. She is currently serving as the Director of West Kentucky College Academy at West Kentucky Community and Technical College. Education has been part of her entire life. She grew up wanting to be a teacher and continuously played the role. She earned her BA in Business Education at Murray State University and began teaching Business classes in 1996. From there, she went on to earn Masters in Guidance and Counseling and Rank I from Murray State University and worked as a high school counselor. In 2011, she transitioned to the post-secondary environment as the Director of the West Kentucky College Academy. Since 2013, she has served as the chairman of the KCTCS Dual Credit Peer Team. In 2018, she began her service as a NACEP Accreditation Commissioner and in 2019, she was appointed to the SREB Dual Enrollment Advisory Council.
For Presenters
Are you interested in presenting at the conference?
We are currently requesting proposals for conference breakout sessions. Scope of topics should cover Effective Best Practices in Dual Enrollment such as:
Effective partnerships with High Schools and community colleges
Retaining Dual Enrollment students in our community colleges
Guided pathways for Dual Enrollment students
Higher Learning Commission and Qualified Dual Enrollment Teachers
Arizona A-F School Accountability System and how to partner to support the metrics
Student Services for Dual Enrollment Students
Successful Advising models
Discipline Specific professional development for DE instructors
Serving students through multiple delivery models
Engaging the underrepresented student population
Nuts and Bolts of operating a Dual Enrollment program
Please complete the form below to submit your proposal.
For more information contact: Heather Mulcaire - (928) 634-6527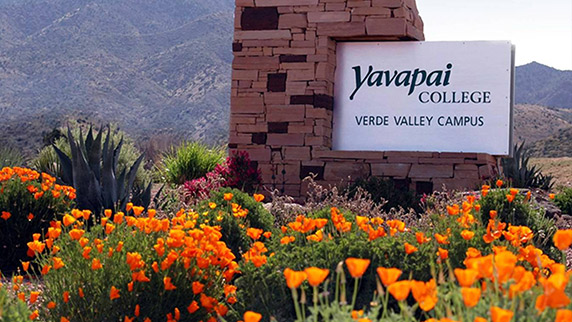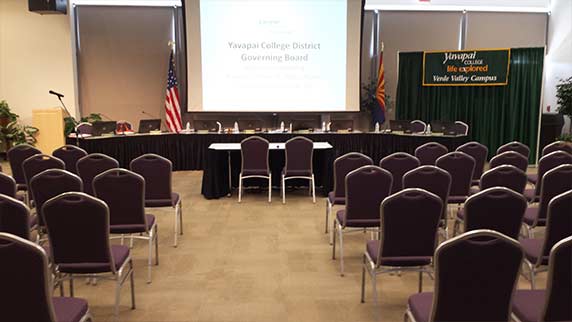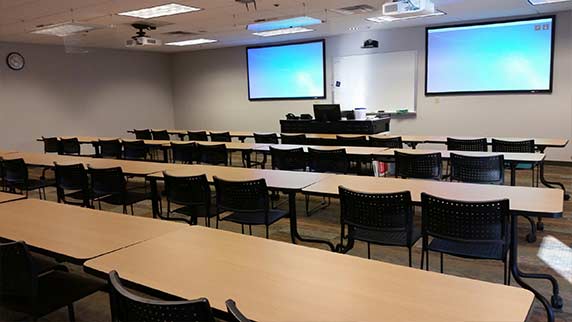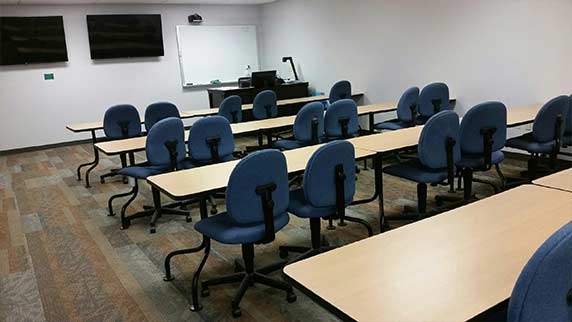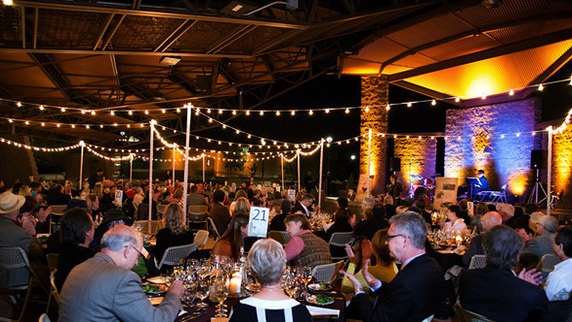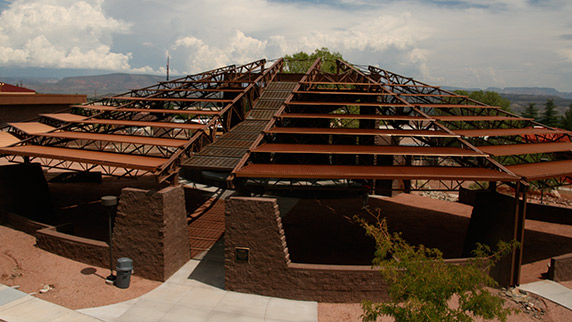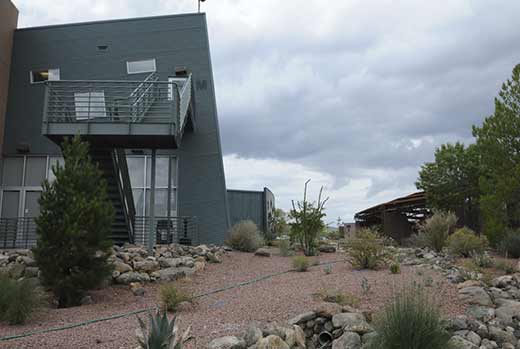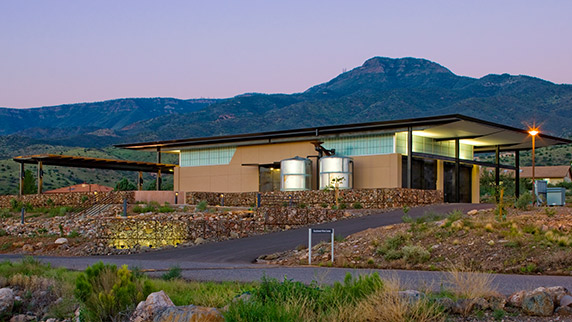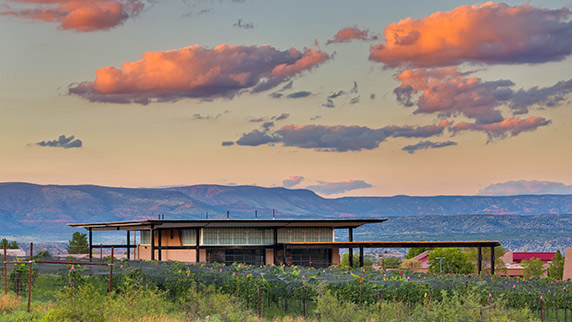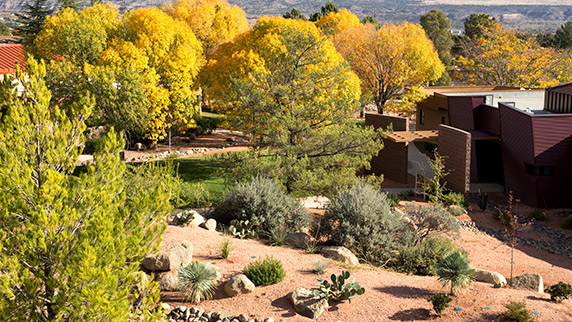 About the Verde Valley Campus
Southwest Wine Center
Mabery Pavilion
Community Room
Classrooms
Fitness Center
Our Verde Campus is nestled at the foot of Mingus Mountain, and provides scenic views of the Verde Valley. The campus is conveniently located near the Red Rocks of Sedona, the Verde Valley Wine Trail, Jerome and Old Town Cottonwood. For those who enjoy being physically active, the Verde Valley provides hundred of miles of hiking trails, not to mention idyllic photo opportunities!
In addition to meeting rooms, the Verde Valley Campus features the open-air 400 seat Mabery Pavilion,a 140-seat community room, and is home to Yavapai College's Southwest Wine Center including the largest estate vineyard of any college in the country.
---
Lodging:
While we do not have a specific designated hotel with a conference rate, there are several good hotel options nearby including:
---
Recommended Food Spots in Old Town Cottonwood
*Restaurants close around 8pm
The Tavern Grill
Nic's Italian Steak and Crab House/li>
Colt Grill
Bocce Pizzeria
Merkin Vineyards Oesteria