Concurrent Enrollment Students
START COLLEGE EARLY! Yavapai College offers academic programs for students who want to take classes at a YC campus while still in high school. This program is open to all qualified high school students. Students are required to meet the prerequisites for intended courses. It is the student's responsibility to arrange for payment of tuition and books.
Credits earned through concurrent enrollment will be part of your permanent college transcript and impact your college grade point average (GPA). It is recommended that CE students work closely with their high school to identify college classes that meet high school graduation requirements.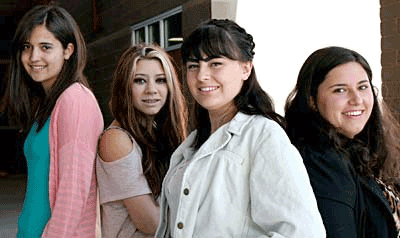 AAEC students earn AA degrees.
---
  Steps to Become a Student for Concurrent Enrollment Students
1. Apply for admission to Yavapai College.
Complete the application for admission. You will receive a username and a temporary password. Follow the directions to set up your new permanent password. Both will be needed to log onto the website. Out of state tuition will be charged unless the student provides proof of citizenship to the Answer Center.
Prescott area: (928) 776-2149
Verde area: (928) 634-6520
Fax: (928) 776-2151
2. Take the ACCUPLACER Skills Assessment.
The assessments include reading comprehension, math, and English composition
Prescott area/ Bldg 1 - 225: Call (928) 776-2200 to make an appointment.
Verde Valley area/ Bldg I - 123: Call (928) 634-6561 to make an appointment.
Prescott Valley area: Call (928) 776-7902 to make an appointment.
Chino Valley area: Call (928) 717-7720 to make an appointment.
3. See an Academic Advisor.
Call for more information, or to schedule a phone or in-person appointment with an academic advisor to discuss and plan for your academic & career goals.
Prescott area: (928) 776-2106; Verde Valley area: (928) 634-6510
---
NOTE: You'll need to login to register and pay for classes.
Log onto the website with your username and password by clicking the myYC Login button on the upper right corner of the page.
---
4. Register for classes.
Using the myYC login button, log onto the YC website with your username and password and click on either Roughrider Scheduler or Register for Classes.
5. Payment Information.
Don't forget to arrange for payment. Payment can be made by logging onto the website, then click on Payment Center. Contact the Business Office for information about bills, payments and payment plans: Prescott (928) 776-2140, or Verde Valley (928) 634-6518.
If your high school is paying for your tuition, contact the Business Office for more information prior to registration.
6. Get your Photo ID.
Your OneCard is available after registration. The first one is free, see the Answer Center at the Prescott, Verde Valley, or CTEC Campus. See the reception desk at the Prescott Valley or Chino Valley Campus.
 

IMPORTANT Information

for Parents and Students
FERPA
The Family Educational Rights and Privacy Act is a federal regulation that deals specifically with the education records of students who attend any post-secondary institution. Please read the complete FERPA policy
Federal Guidelines Regarding Eligibility for Federal Student Aid
Federal regulations require that students receiving financial aid must maintain Satisfactory Academic Progress (SAP). Please read the complete policy.
It's important to remember that students are measured on attempted credits, and every class attempted or completed becomes part of the student's life-long, permanent record even if financial aid was not received for those courses. Students need to understand the implication of failing or withdrawing from a class even if federal aid is not used.
Regardless of where a student attends college, ALL post-secondary institutions are required to measure students' eligibility as outlined above.
For great advice and tips to prepare for college, go to College Parent Central.
---