Dr. Patricia McCarver
Board Chair, District 4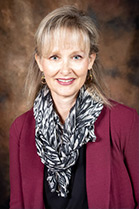 Dr. Patricia McCarver lives in Prescott and has been a District Governing Board member at Yavapai College in Prescott, Arizona, since January 2005. She is currently serving as a senior faculty member in the Teacher's College at Western Governors University, teaching Educational Psychology and Research Writing to graduate and undergraduate students.
Dr. McCarver has a broad background of experience and knowledge of higher education.
She has presented at many professional conferences, on topics related to education, student services, transformative learning and group development. Dr. McCarver has also provided training for the Yavapai College Board as an internal consultant and presented at the Association of Community College Trustees meetings on her Board's practice in Policy Governance.
Dr. McCarver's educational background includes a Ph.D. in transformative learning and change from the California Institute of Integral Studies. She has her Master's degree in college student personnel administration from Emporia State University in Kansas and her bachelor's degree in psychology from St. Norbert College in Wisconsin.
Dr. McCarver served as the Board Chair from 2009-2010, and from 2015-1016. She lives in Prescott, Arizona with her husband and 2 cats, and enjoys travel, cycling, and spending time with family and friends.
---
District 4: Antelope, Ashfork, Big Chino, Camp Wood, Chino Valley 1 and 2, Country Park, Cougar, Coyote Springs, Deep Well, Drake, Granite, Perkinsville, Pinon Oaks, Sandretto, Seligman, Shadow Valley, Spruce, Williamson Valley, West Chino, and Willow
Term Expires: December 31, 2020