The College Budget
Financial stewardship is an important cornerstone of being a community-supported institution. It's something we pride ourselves on, and a value we hope to instill in our students as we help them achieve their personal and professional educational goals.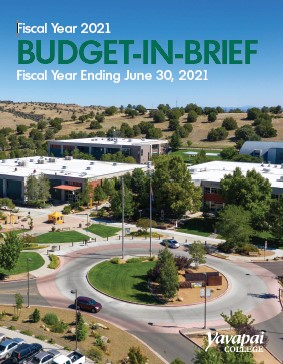 FY2020-21 Adopted Budget
---
We have created a new format which we hope will be more understandable and engaging—please check it out!
2021 Budget in Brief - Preparing the annual budget is one of the most important tasks of the year for the College Administration and for the District Governing Board.
A well-crafted budget aligns college resources in a way that reflects our values and helps to make Yavapai County a premier place to learn, work, and live. Moreover, a well-planned budget ensures that Yavapai College remains a good value for students and taxpayers alike.
---
Budget Calendar
Because of the importance and complexity of the budget, various aspects of the budget are discussed in detail with the board at the monthly board meetings per this calendar.
These discussions of projected revenues and expenses serve as the foundation for the approval of the final budget in May, as well as any property tax increase that may be considered in May. If the publicly elected district governing board is considering an increase in the property tax levy, a truth in taxation hearing will be advertised in accordance with ARS 15-1461.01 in the April timeframe.
I would encourage you to attend these meetings to learn more about the Yavapai College, or to watch them on channel 13 as all board meetings are recorded and broadcasted.
Month
Governing Board Discussion/Action
Discussion Detail
FY2021-22 Information
October
Approve Revenue Plan & Budget Assumptions

The Vice President of Finance and Administrative Services, and the Vice President of Instruction and Student Development present Revenue Plan recommendations.  An overview is provided of projections/options/recommendations for the coming year on State Appropriations, Property Taxes, and Tuition and Fees.

November
Environmental Analysis

The Vice President of Finance and Administrative Services, and the Director of Institutional Research and Effectiveness present an Environment Analysis that includes a review of enrollment and demographic information.

January
Work Study

The Vice President of Finance and Administrative Services presents budget assumptions for the upcoming fiscal year for the major components of revenues and expenditures based on the best information available at this time, but they may change significantly over the coming few months.

 

February
March

Capital Budget Draft Plan

The Vice President of Finance and Administrative Services presents the preliminary Capital Budget Information including a Capital Improvement Plan for consideration by the Board.

April

Preliminary Budget Approval

The Vice President of Finance and Administrative Services presents a comprehensive Preliminary Budget for the coming fiscal year.

FY2020-21 Preliminary Budget Presentation

May

Truth in Taxation Hearing

Final Budget Approval/Adoption

A Truth-In-Taxation Hearing is held If the District Governing Board plans to asses an increase in total levy.

A separate meeting is convened to approve/disapprove the levy increase.

A third separate meeting is convened to approve/disapprove the college budget.

TNT Overview (none proposed in FY2020-21)

FY2020-21 Proposed Budget Presentation

June

No Scheduled Budget Activity

July

Start of new fiscal year.

The adopted budget is implemented for the new fiscal year.

.
---
Budget in State Format per ARS 15-1461 
Comprehensive Annual Financial Reports
---
Current Budget Information
Current budget information such as the Monthly Financial Update, the reports on Executive Limitations – Policy 2.3.1 – Budget Deviations and Policy 2.3.2 – Reserves, as well as the YCFS Summary are found in the Governing Board meeting minutes and full agenda documents.  Minutes and Full Agendas can be accessed on the District Governing Board website.
---
Yavapai College Economics: Facts & Figures
YC has had 'clean' audits (unqualified opinions) for more than 10 years in a row ii. YC has earned a Certificate of Achievement for Excellence in Financial Reporting from the GFOA for more than 10 years in a row
YC's Composite Financial Index exceeds the recommended target set by our accrediting agency, the Higher Learning Commission
YC's S&P Rating is AA- and Moody's rating is Aa2
YC's Property Tax rates are near the median for community colleges in AZ—AZ property taxes are among the lowest in the country
YC takes great care of its capital facilities and infrastructure. Our Net Asset Value score is 89%, meaning that we have minimal deferred maintenance which we believe lowers the total cost of ownership.
Per Arizona statute, current Yavapai College expenditures per student are at or below the inflation-adjusted 1980 expenditures per student.
---
Additional Information
Yavapai College Employees: Internal budget forms have been moved to the Budget Channel in the YC Portal.
College Employee budget informational sessions November 10, 2020:  (note that YC log in credentials are required)
The Staff Presentation can be found here:
Staff Budget Information Session

And the Faculty Presentation is here:
Faculty Budget Information Session